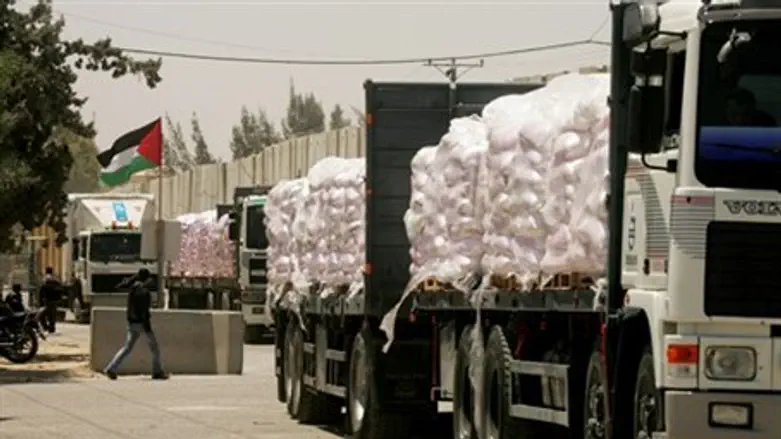 Kerem Shalom Crossing
Flash 90: Abed Rahim Khatib
Two Arab brothers from Hevron were indicted Monday morning in the Be'er Sheva District Court. They were charged with transferring materials that could be used to build rockets to Gaza without a permit.
The materials are multi-purpose and are subject to strict supervision. The brothers are likewise charged with knowing that the banned materials may have been used by a terror organization to attack Israel.
The two brothers worked at a family business in Hevron by the name of Al-Tza'adak which provided building materials and paint to the area around Hevron. Two months ago the brothers were approached by a businessman from Gaza who ordered a variety of different materials, among them were paint thinner, filler, and polyester resin, which are all materials that require a special permit to enter the strip.The brothers applied to the Coordination of Government Activities in the Territories (COGAT) offices for a permit allowing them to transfer thinner and filler, but left out the polyester resin.  
When the brothers received their order, they labelled all of the containers as diluted thinner, in an effort to mask the polyester resin that was being provided so that the forces checking the delivery at the Shalom crossing would miss the resin.
The brother likewise presented a receipt that stated that all 480 containers contained only paint thinner. On October 20th the shipment arrived at Kerem Shalom and was confiscated, as the brothers did not have  permit allowing them to ship polyester resin to Gaza.   
According to the indictment the brothers had previously succeeded in the summer of 2015 to supply the businessman with contraband polyester resin. Israeli Security Services (ISS) as well as the southern district counter terror forces investigated the matter.  
Prosecutors have requested that the brothers be arrested until their  legal proceedings have ended.