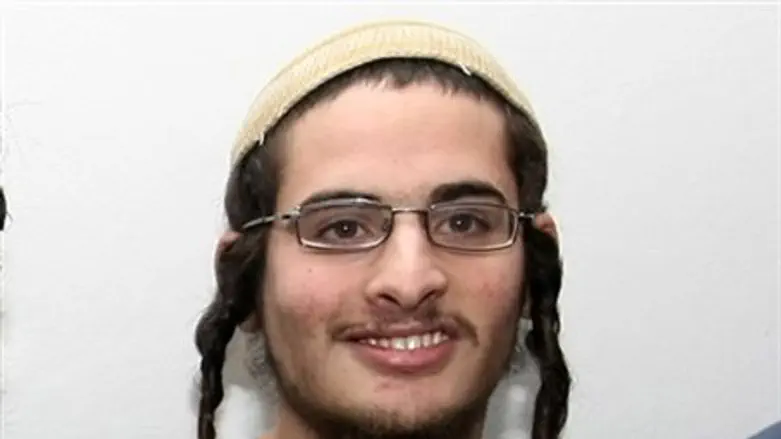 Meir Ettinger
Flash 90
Right-wing Jewish activists Meir Ettinger and Evyatar Slonim will remain in administrative detention for six months, the Lod District Court ruled Tuesday, despite an uproar over the harsh ruling for the two men. 
At a hearing Tuesday afternoon, a state representative requested for the court to approve the administrative detention order issues by Defense Minister Moshe Ya'alon. 
Attorney Boaz Oren, the legal representative for Slonim under the auspices of legal rights group Honenu, asked for an additional hearing over the matter and made a number of preliminary arguments in defense of the two men. 
Following the request, information on why the two men were sentenced to administrative detention has been sent to their legal team, and an additional hearing has been set for two weeks' time. 
Slonim was arrested last Tuesday, a day after Ettinger - the grandson of Rabbi Meir Kahane - was also detained, both on suspicion of "Jewish extremist activity."
Attorney Yuval Zamar, who is representing Meir Ettinger said after the hearing that "the feeling is that Mr. Ettinger is being persecuted solely because of his views and outlook on life and not for acts committed or that he intends to perform."
"This is a new low for freedom of expression and a trampling of human rights unequaled in democratic countries." 
"This is a radical step made only when there is a real concern for Israel's security, and we believe there is no such concern in the present case," Oren added. "The court decided that the materials we delivered to them will be based on our arguments so another hearing was set where we believe we can convince the court not to approve the administrative detention."  
"It is inconceivable that the defense minister will also be an investigating authority, along with the executive and the judiciary," he fired, noting that such a move leaves a defendant without the right to defend himself under law.