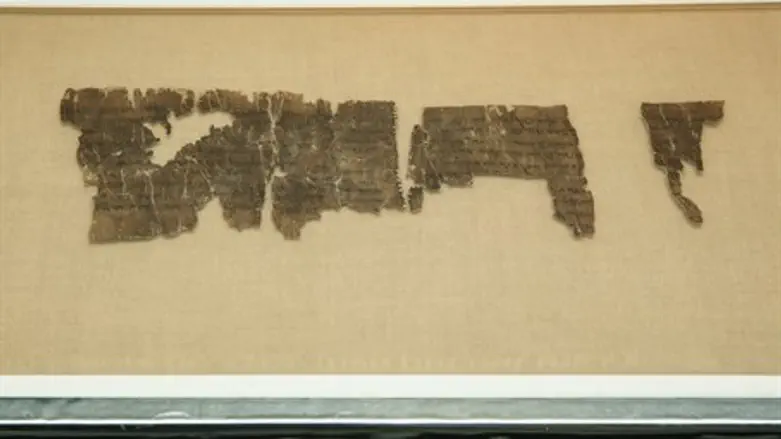 Early Eicha scrolls
Oded Entman
The Qumran edition of the Book of Lamentations (Eicha) will be on display for a four-day period, the Israel Antiquities Authority (IAA) announced this week, in a special exhibit in honor of Tisha B'Av on Sunday.
The writing on the scrolls dates from 30 BCE - 70 CE and has never been presented to the public until now. The scrolls will be on display in the Bible Lands Museum in Jerusalem until Sunday night. 
The exhibition conditions (climate and light) have been specially adapted to allow the presentation to the public while also preserving the fragile document. The exhibit is also under heavy security during its duration to prevent any tampering. 
The Qumran scrolls are part of the "on the Rivers of Babylon" exhibit, the world's first specifically focusing on the destruction of Jerusalem and the Babylonian exile. It reveals for the first time original documents from the time of the Babylonian exile, as well as highlighting the importance of the Dead Sea Scrolls. This collection has been on display since the month of Av began some eight days ago. 
The exhibit also includes the 'Al-Yahud' collection: a collection of dozens of clay tablets confirmed to have stemmed from the Jewish community in Babylon which chronicles the life of the exiles from Judea and in the land of Babylon for the first generations after the exile.
'Al-Yahud' reveals a wealth of crucial information about this little-known period, and the tablets are currently undergoing extensive research from a team of experts from Israel, the US, and Germany. Research on the tablets is ongoing and constantly expanding; experts say that it has opened an entirely new discipline in the field of Jewish Studies and Assyriology. 
"This is a tremendous privilege and incredibly exciting to allow for public viewing for the first time this Jewish and historical document of this magnitude," Amanda Weiss, executive director of the Bible Lands Museum in Jerusalem, stated. 
"The Qumran Eicha is the earliest scroll of Lamentations, and will be displayed for three days near a rare collection of items from the destruction of Jerusalem and the Jewish community in Babylon during the dates for which it is relevant - during the nine days before Tisha B'av and two days before Tisha B'av itself."