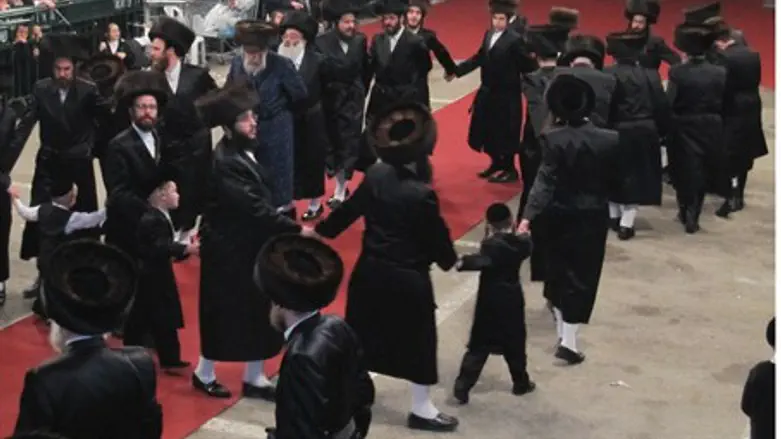 Vizhnitz wedding (illustration)
Yoni Kempinski
In a dramatic move the haredi Vizhnitz Hassidic stream has reversed a two-year old decision to have its young men refuse to enlist in the IDF, and in a new announcement called on its youth to join the army.
Vizhnitz leaders originally decided against IDF service due to issues of modesty concerning proximity to female soldiers, along with the storm around the Enlistment Law that sparked fury in the haredi world by trying to press haredim into enlistment on the threat of criminal sanctions.
But the Rebbe of Vizhnitz last Friday issued a new order having Vizhnitz yeshiva students enlist, according to the haredi site Kikar Hashabbat.
The announcement last Friday noted that the change comes as a result of long negotiations between Deputy Health Minister Ya'akov Litzman (United Torah Judaism), who represented Vizhnitz, together with senior IDF sources.
Students of army age will be led in a special day of enlistment supervised by heads of the Vizhnitz yeshivas, according to the announcement.
"Students who have not yet reported for their first draft notice according to the order of the (Rebbe of Vizhnitz - ed.)...as well as youths who were born up to the date January 16, 1999 (even if they have not yet receive a first draft notice) will appear together on a special enlistment day (and not on other days!)," read the notice.
The agreement is seen as being partly the result of United Torah Judaism's coalition agreements with Likud, as well as the spirit of unity that gripped the nation during last summer's war against Hamas terrorists, all of which pushed the negotiations forward.