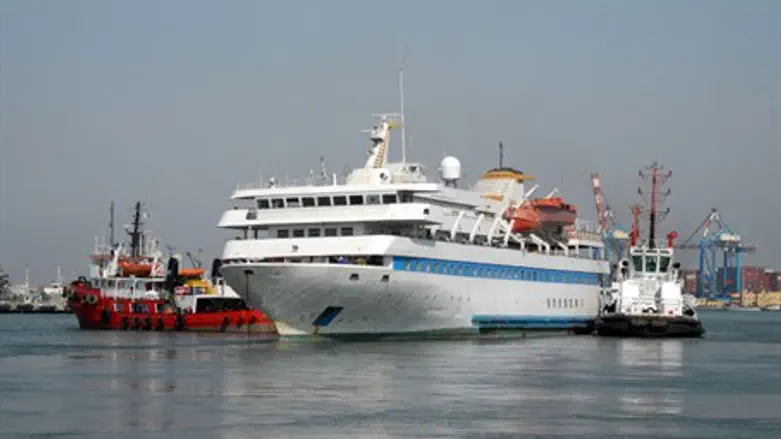 Mavi Marmara
Defense Ministry Spokesperson
A court in Madrid on Thursday shelved a five-year-old investigation into the IDF's raid on a Gaza-bound flotilla in 2010, Reuters reported.
The probe could potentially be re-opened if Prime Minister Binyamin Netanyahu ever visits Spain.
Nine Turkish activists died after Israeli commandos staged a pre-dawn raid on the six-ship flotilla, which claimed to be carrying "humanitarian aid" to Gaza, in May 2010.
One of the ships in the flotilla, the Mavi Marmara, defied orders to turn around and dock at the Ashdod port. After it ignored repeated warnings to change course, the IDF boarded the vessel - only to be attacked by Islamist extremists on board.
The soldiers had no choice but to open fire, resulting in the deaths of nine on board. After an investigation, Israeli authorities discovered the vessel to be carrying no humanitarian aid - in fact, no aid supplies at all - whatsoever. 
Spain has pioneered the use of universal jurisdiction, the concept that crimes against humanity can be prosecuted across borders, noted Reuters. The law was recently changed, however, so that judges could only investigate such cases if there was a Spanish connection, such as a native victim or perpetrator.
The Madrid court said in a written ruling on Thursday that it was closing the case in which Netanyahu and several of his ministers were accused of crimes against humanity.
It left the possibility that the case could be re-opened, saying the investigation was shut until Netanyahu and those targeted by it came to Spain.
It did not make clear what steps would be taken if they did.
The chief prosecutor of the International Criminal Court (ICC), Fatou Bensouda, said last November the court would not be investigating the Marmara incident, despite a "reasonable basis" to believe that war crimes were committed.
The Comoros, which referred the case to the ICC, later asked ICC judges to order the chief prosecutor to reconsider her decision.
The United Nations' 105-page Palmer Report has already concluded that Israel's naval blockade of Hamas in Gaza is both reasonable and legal, and that the passengers on the boat had lain in wait for the commandos.
An Israeli panel, the Turkel Commission, also concluded that the IDF acted in self-defense against the terrorists on the Mavi Marmara.