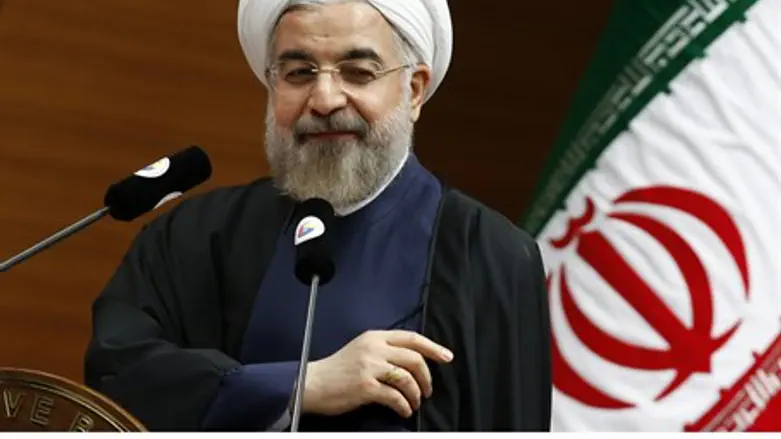 Iranian President Hassan Rouhani
Reuters
Iranian nuclear fuel stockpiles grew by a massive 20% over the past 18 months of negotiations between Iran and world powers, a report last month by the International Atomic Energy Agency (IAEA) has revealed.
The report comes just one month ahead of the June 30 deadline set for the P5+1 powers and Iran to finalize a deal over Tehran's nuclear program.
News that Iran has been busily expanding its stockpiles contradicts claims by US President Barack Obama that the Islamic Republic had "frozen" its nuclear program during the last year and a half of negotiations.
Despite that, western leaders appear increasingly likely to accept a deal based on the April framework agreed in Lausanne, Switzerland.
On Monday, French Foreign Minister Laurent Fabius said he believes there is a good chance that world powers will reach a deal which would see Iran curbing its nuclear activities.
The French minister said that an accord "must be perceived as sufficiently robust." Still, asked whether he thinks a deal will be achieved, Fabius said, "Probably yes."
Looming in the background, however, are vows by Iran that it will not allow inspections of military sites - something which Fabius himself has said would be a deal-breaker.
Other issues which have dogged the talks include demands by Iran that all sanctions be lifted immediately, as opposed to gradually rolled back as proof of Tehran's compliance unfolds, as Obama has insisted.
Israeli leaders have repeatedly warned the looming deal will be a "bad" one, with Prime Minister Binyamin Netanyahu in particular noting that the core framework of the agreement would allow Iran to reap all the benefits of ending sanctions, while able to break the deal at any time and forge ahead with nuclear weapons development.