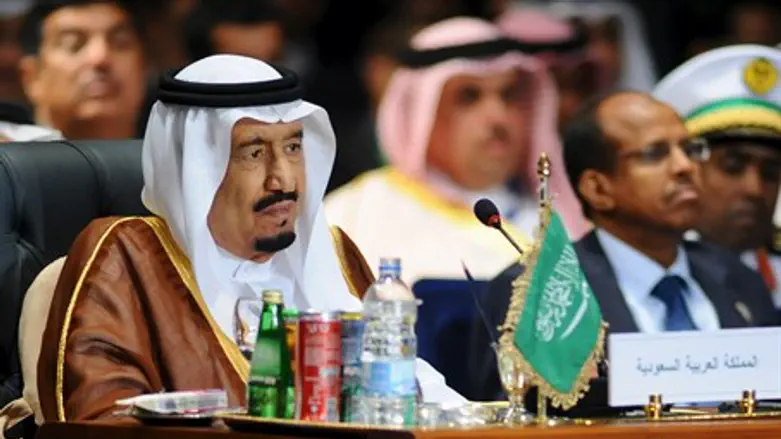 Saudi Arabia's King Salman
Reuters
Saudi Arabia's government announced on Monday that it welcomes the interim deal between Iran and the P5+1 world powers over Tehran's nuclear program, Reuters reported. 
Iran and six world powers - the United States, Britain, Russia, France, Germany, and Chine - reached a framework agreement on Thursday which would effectively end Tehran's nuclear research for at least ten years and also gradually remove Western sanctions. 
In a statement issued at the end of a cabinet meeting in Riyadh, ministers said they hoped the final agreement, expected to be signed by the end of June, would rid the region of nuclear weapons. 
"The council of ministers expressed hope for attaining a binding and definitive agreement that would lead to the strengthening of security and stability in the region and the world," the statement read.
The Saudi government added the they hoped a final deal would ensure a "Middle East and the Arabian Gulf region free of all weapons of mass destruction, including nuclear weapons."
The call for a demilitarization in the region may be an implicit reference to Israel, who is assumed to already have an arsenal of nuclear weapons. The Jewish state has also expressed its staunch opposition to the deal. 
Saudi Arabia, a Sunni Muslim kingdom thought of as a more moderate Arab state, considers Shiite Iran its biggest regional rival. For the past week and a half, the two have been duking it out in Yemen as Houthi rebels backed by Tehran try to take control of the country. 
Not coincidentally, the Saudi kingdom's statement also emphasized the need for "good neighborliness and non-interference in the affairs of Arab states." 
While the Saudis have now applauded the deal, expert Emily Landau told Arutz Sheva Monday that they are still "tremendously worried" over, not necessarily Iran's nuclear capacity, but the "broader implications on the overall strategic situation."