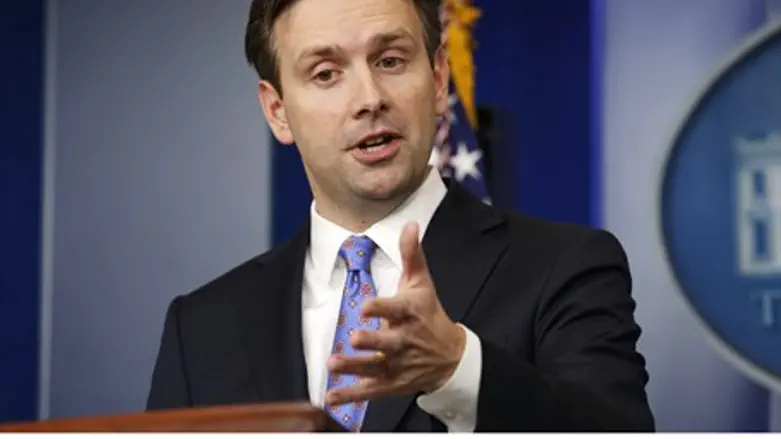 White House spokesman Josh Earnest
Reuters
The White House on Thursday pointedly raised the prospect of withdrawing crucial diplomatic cover for Israel at the United Nations, following Prime Minister Binyamin Netanyahu's decisive election victory.
"Steps that the United States has taken at the United Nations had been predicated on this idea that the two-state solution is the best outcome," said spokesman Josh Earnest.
"Now our ally in these talks has said that they are no longer committed to that solution. That means we need to reevaluate our position in this matter, and that is what we will do moving forward."
Earnest's comments address Netanyahu's statements in days leading up to the Tuesday elections, in which he promised a Palestinian state would not be established if he is elected - statements he distanced himself from on Thursday.
The US holds veto power at the UN Security Council and has blocked anti-Israel resolutions recognizing the Palestinian Authority (PA) as a state from being passed in the past. Such unilateral moves for international recognition are a breach of the 1993 Oslo Accords that formed the PA.
PA chief negotiator Saeb Erekat told AFP after the elections that the PA would "speed up, pursue and intensify" those unilateral breaches aiming for international recognition.
The White House has stated that it has yet to make policy decisions going forward, but stated that the US in the past had "protected Israel from
isolation in the international community."
Earnest also slammed Netanyahu's statements in interviews to American media outlets on Thursday, in which Netanyahu backtracked on his apparent opposition to the two-state solution.
"What is apparent is that in the context of the campaign, and while he was the sitting prime minister of Israel, he walked back from commitments that Israel had previously made to a two-state solution," Earnest said.
In his infamous 2009 Bar Ilan speech, Netanyahu voiced his support for the idea of founding a demilitarized Palestinian state next to the state of Israel, a position that has raised grave concern on the right given the threat to Israeli security and Jewish rights to the land.
US President Barack Obama, who has yet to call Netanyahu to congratulate him on his victory, has long had tense relations with Netanyahu.
Obama could call Netanyahu "as soon as" today following his election victory, the White House said Thursday.