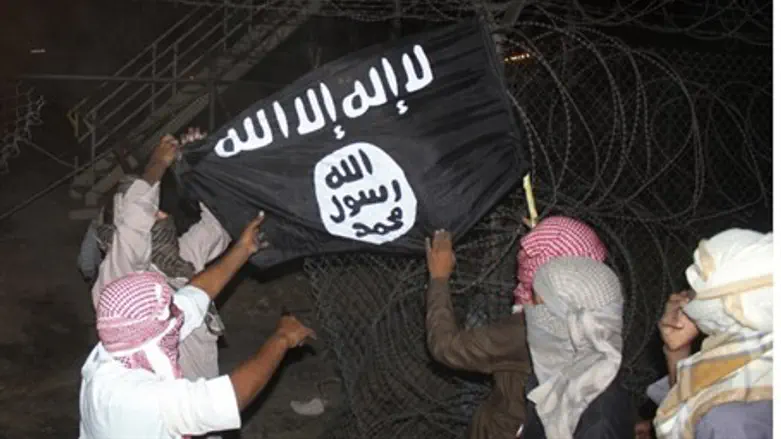 Terrorists raise Al-Qaeda flag in Sinai
Reuters
Four Egyptian policemen were wounded on Monday by a bomb in the Sinai Peninsula, security sources said, according to Reuters.
The explosive device was planted at the entrance to an apartment building in the provincial capital of El-Arish, the sources said.
Egypt's military has been battling an insurgency on the peninsula since it overthrew Islamist president Mohammed Morsi last year and cracked down on his supporters.
Most of the attacks have been claimed by Ansar Bayt Al-Maqdis, the country's deadliest terrorist group which has pledged allegiance to the Islamic State group (ISIS).
Among the attacks claimed by the group since Morsi's ouster was the assassination of a top Egyptian police general, who was gunned down as he left his home in a west Cairo neighborhood, and a bus bombing on a tour bus filled with South Korean tourists in the Sinai. 
In a separate attack on Monday in Cairo, a bomb exploded in the car of a police officer who was not in the vehicle at the time, security sources said, according to Reuters.
The government declared a state of emergency in parts of North Sinai after an October 24 suicide attack near El-Arish killed 30 soldiers in the deadliest assault on security forces since Morsi's ouster.
As part of the crackdown on the terrorism, Egypt established a buffer zone along its border with Gaza, in an attempt to prevent Gaza terrorists from assisting Sinai terrorists via the smuggling tunnels under the border to Sinai.