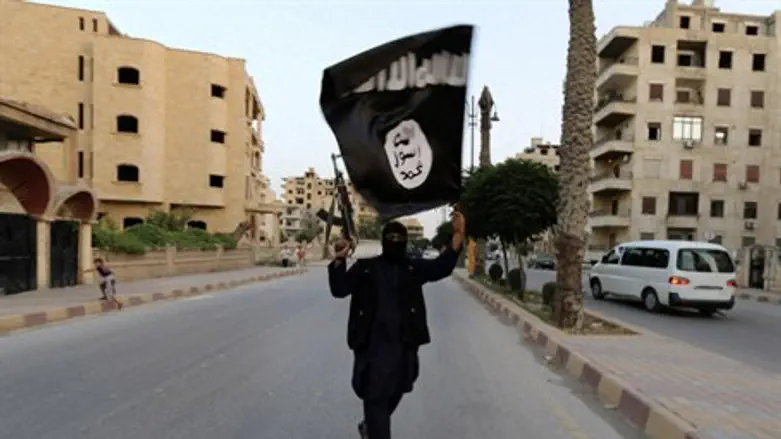 Member of Islamic state
Reuters
Ansar Bayt Al-Maqdis, one of Egypt's deadliest terror groups, published images Saturday, showing some of their jihadists carrying ISIS's recognizable black flag onto one of the guard towers located near the border between Israel and Egypt. 
On Wednesday, Ansar Bayt Al-Maqdis pledged its allegiance to ISIS in Iraq and Syria, in a bid to boost recruitment and bolster its fight against the Egyptian army, according to analysts.
In a video posted by the group to social media, also on Saturday, they claimed responsibility for last month's deadly suicide attacks in northern Sinai, which resulted in the deaths of 30 Egyptian soldiers. The video also documents the attack. 
Although no formal verification of the terrorist organization's flag claims have been presented, the message they are sending to Egyptian and Israeli authorities is obvious - and chilling. 
Ansar Bayt Al-Maqdis, known for operating in (and terrorizing) the Sinai Peninsula, has killed scores of policemen and soldiers since the army overthrew Muslim Brotherhood president Mohammed Morsi last year. They have also begun practicing beheading in recent weeks. 
The October 24 attack in which a jihadist rammed an explosives-packed car into military checkpoint in northern Sinai was the deadliest such incident in years, demonstrating the terrorists desire to harm the sovereignty of Cairo's government. 
Ansar Bayt Al-Maqdis said it was acting in retaliation for a crackdown on Islamist supporters following Morsi's removal from power.
In the video, they address Egyptian President Abdel Fattah al-Sisi, who orchestrated the crackdown, directly, promising further attacks against security forces. The group also accuses al-Sisi of collaborating with Israel. 
Israel has also ben targeted by the terror group in the past, with several rocket attacks hitting the Israeli resort city of Eilat.