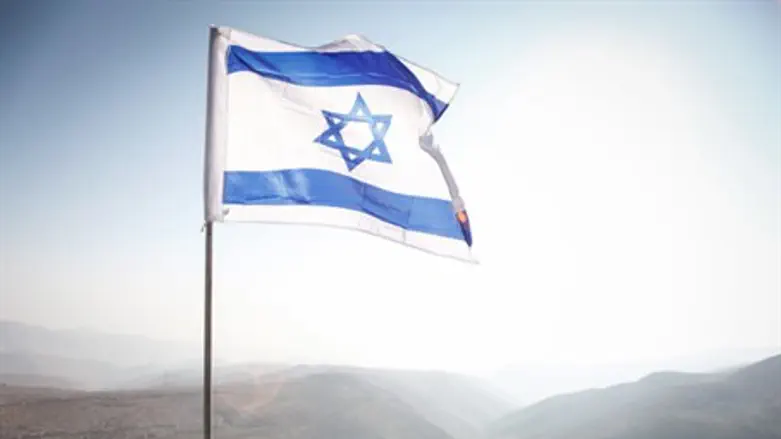 Israeli flag
Flash 90
Quality of life in Israel keeps on improving, according to the 2014 Legatum Global Prosperity Index, as the Jewish state moved up one place in 2014, from the 39th most prosperous country in the world to the 38th. 
The Global Prosperity Index "defines prosperity in terms of wealth and well-being," based on statistics and data from 142 countries, according to the report. 
The report also includes a dizzying array of sub-indices, including Education, Social Capital, Health, Personal Freedom, Governance, Economy, Entrepreneurship and Opportunity, and Safety & Security. 
Israel, overall, did well in most sub-indices, with the best sub-index being Social Capital (19th worldwide) and the worst being Personal Freedom (97th). 
A close analysis of the report reveals a plethora of interesting facts about life in Israel - and, overall, that Israelis have their basic needs more than well-provided for and enjoy a wide range of social, educational, and economic opportunity. 
Economically, Israel is doing considerably better than the global average. While only 1.8% of respondents said Israel's economy was "getting better" (comparable to the global rate of 1.9%), Israel does have a sky-high capital per worker rate of 110512.8 (compared to 53494 worldwide - nearly double).
Likewise, 89.5% of Israelis said they have access to adequate food and shelter and 70.4% said they were satisfied with their overall quality of life. Worldwide, just 70.4% of respondents said they had food and shelter - and just 59.4% said they were satisfied with current living standards.
Oddly, Israelis have a far higher mobile phone per-person rate compared to the global average, with 122 mobile phones per 100 people and 97% of households owning a mobile phone (compared to 106.8 per 100 people and 84.7%). 
However, the general public is not satisfied with governmental efforts to address poverty, with only 14.1% of respondents saying the government is doing enough for the poor (compared to 38.2% worldwide).
Israel does have high confidence in its military, however, with 81.9% expressing confidence in the IDF (compared to 73.3% worldwide confidence in national armies). Israel is safe, as well: 70.7% of respondents said they "felt safe walking alone at night" (compared to 61.5% worldwide). 
Health and education also fared well in Israel. 94% of Israelis are vaccinated against infectious diseases (89.4% worldwide), and 80% said they were "satisfied" with their level of personal health (compared to 78%).
The average lifespan in Israel is 81.7, compared to 70.7 worldwide; however, Israelis do suffer from anxiety, with 52.5% of respondents saying they "felt worried yesterday" (vs. 38.5% worldwide).
Meanwhile, Israelis are highly educated, the poll shows, with 101.7% of Israeli teenagers enrolled in secondary education (versus just 79.9% worldwide) and 96.7% of Israeli children enrolled in primary education (vs. 90.5%). 65.8% of Israeli adults were, are, or have been enrolled in higher education institutions - considerably higher than the global rate of 39.6%. Overall, 70.2% of Israelis are satisfied with the level of education (compared to 66.1%).
Overall, Israel ranked the second-highest for well-being in the Middle East, just behind the United Arab Emirates (28th). The top five were Norway, Sweden, New Zealand, Denmark, and Canada; the lowest five were Yemen, Burundi, Democratic Republic of the Congo, Chad, and the Central African Republic. Australia ranked seventh; the US, tenth; and the United Kingdom, 13th.