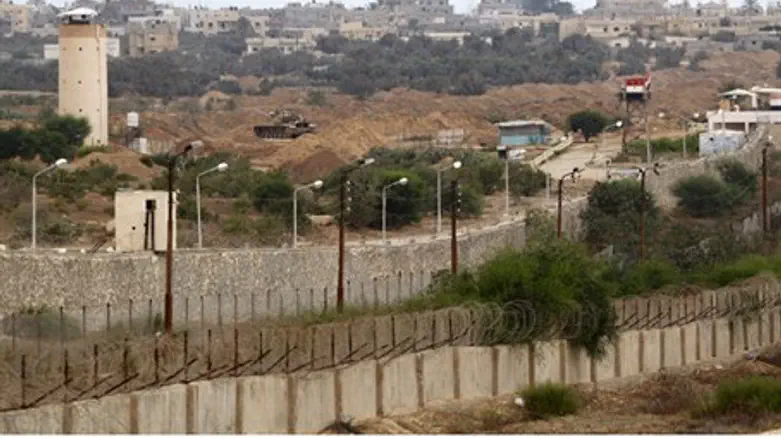 Egyptian soldiers in Rafiah
Flash 90
Egypt has ordered residents living along the country's eastern border with Gaza to evacuate within 48 hours but put that on hold after they protested, The Associated Press (AP) reported on Tuesday.
The ultimatum is part of Egypt's buffer zone plan, which follows a lethal terror attack last Friday that killed 31 Egyptian soldiers in the Sinai Peninsula.
The homes evacuated will be demolished and a buffer zone set up to stop weapons and terrorist trafficking between Egypt and Gaza, officials told AP.
Earlier Tuesday, Egyptian military sources revealed details of the plan to the Palestinian Arab Ma'an news agency, divulging that all homes and farmland up to a depth of 500 meters (over 1,640 feet) into Gaza from the Sinai border will be seized and evacuated, other than Rafah and Sheikh Zuweid.
The expulsion will take place to that depth all along the 13 kilometer (over eight miles) border. Additionally, a channel with a depth and width of 20 meters (over 65 feet) will be dug along the Gaza border.
Officials told AP that groups of residents are now negotiating with local officials to see if they can extend the 48-hour deadline to evacuate.
The officials spoke on condition of anonymity because they were not authorized to brief reporters.
Egypt's buffer zone plans are expected to be completed by the end of the year, and as noted come in response to two deadly attacks in El-Arish last Friday, consisting of a suicide bombing on a checkpoint and a shooting attack inside the city of El-Arish.
Egyptian President Abdel Fattah al-Sisi on Saturday said the attacks are "meant to break up Egypt and the Egyptians...Egypt is fighting a war of existence."
The Sinai Peninsula has been the target of continued terrorist attacks, most of which have been carried out by Ansar Bayt al-Maqdis, the most active group in Egypt.
Ansar Bayt al-Maqdis has killed hundreds of Egyptian soldiers and police over the last year, since Morsi's ouster, and beheaded several people in recent weeks, saying they were spies for Israeli intelligence.
Among the attacks claimed by the group since the ouster of Islamist president Mohammed Morsi was the assassination of a top Egyptian police general, who was gunned down as he left his home in a west Cairo neighborhood, and a bus bombing on a tour bus filled with South Korean tourists in the Sinai.