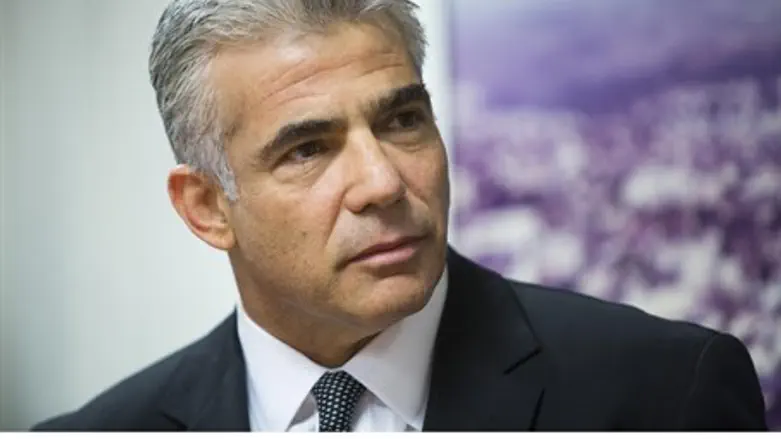 Yair Lapid
Flash 90
Finance Minister Yair Lapid (Yesh Atid) is looking into the possibility of leaving the government and becoming Head of the Opposition, political sources told Arutz Sheva Monday. The sources revealed that several members of Yesh Atid spoke with members of the Arab parties and Meretz and asked if they would agree to make Lapid Opposition Head. 
The move is allegedly prompted by disagreements between Lapid and Netanyahu over the 2015 state budget, the sources said. Lapid wants Prime Minister Binyamin Netanyahu to know that he is capable of leaving the coalition. The Current Opposition leader is Labor MK Yitzhak Herzog. 
Meretz has already rejected the proposal, Walla! News added, but no official response has been issued from the Arab MKs. 
"[Science and Technology] Minister [Yaakov] Perry called me personally," MK Ibrahim Tzartzur (United Arab List) told the website. "I do not rule out the possibility that this procedure comes as part of a transparent game to win over [Opposition] parties on his position on the budget."
In the meantime, Tzartzur said, "I do not believe Yesh Atid is actually so bold that it would leave the coalition."
The announcement surfaces amid a growing rift between Netanyahu and Lapid, with the Prime Minister taking an apparent jab at Lapid earlier Monday in a reference to the Finance Ministry's failures.
"For years we had a responsible fiscal policy, we conducted the economy well and the results are apparent in the Israeli economy, which has received high marks in international markets," Netanyahu said. "But multiple security threats against Israel have required a substantial increase in the defense budget."
"I'm responsible for maintaining both the economy and the security of Israel," he continued. "These are the considerations that guided me regarding the state budget until now, both as [a former] Finance Minister and as Prime Minister."
No results came of a meeting Sunday between Lapid and Netanyahu regarding the state budget, despite a proposed compromise to raise the defense budget by six billion shekel ($273 million) in exchange for passing Lapid's 0% VAT bill for first-time homebuyers.
Netanyahu axed the bill last week, leading to speculation of a major mix-up in the coalition.