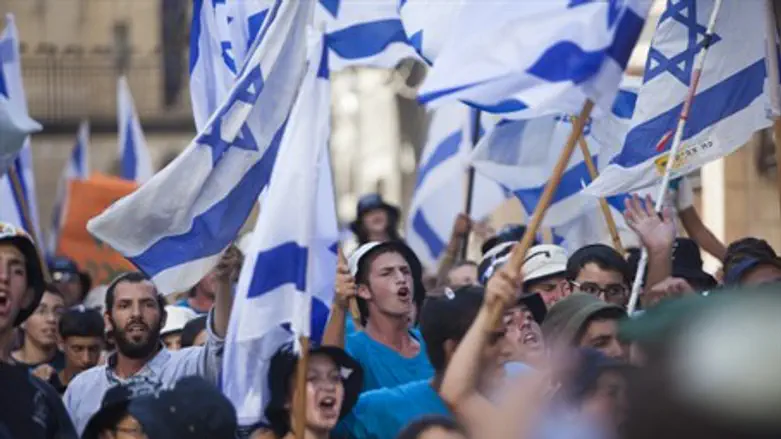 Pro-Israel rally (illustrative)
Flash90
Some 4,500 people from many Jewish and non-Jewish denominations rallied in front of London's Royal Courts of Justice on Sunday, as part of a campaign launched by the newly-formed Campaign Against Anti-Semitism (CAAS) for "zero tolerance" for anti-Semitism in Britain. 
Photos of the event quickly began circulating on social media, under the hashtag #NotoAntiSemitism. Supporters bore banners reading: "Prosecute hate before it's too late", and "Zero tolerance for anti-Semites."
Chief Rabbi Ephraim Mirvis addressed the crowd on the issue of anti-Jewish feeling in Britian. 
"Antisemitism is poisonous not only for Jews, but for all humanity," he stated. "Whilst we are fortunate to live in a country where the fight against antisemitism is being led by our government, we have a collective responsibility to ensure that there will be zero tolerance of antisemitism in our society." 
"We want all perpetrators of hate crime to be brought to justice," he added, "[and] for threats to Jews to be rightly considered as a threat to our society." 
Maajid Nawaz, a Muslim activist and co-founder of counter-extremism think tank Quilliam also spoke at the rally. Nawaz said there was no excuse for anti-Semitism, and rejected attempts by anti-Semites to insinuate that Jewish support for Israel made them valid targets for anti-Israel extremists.
"The rise of anti-Semitism - not just in Britain, not just in Europe, but across the world, has nothing to do with you," he declared to the crowd. "It is not your fault. You have done nothing wrong." 
"We must stand together, we must refuse to be disunited, we must refuse to be divided," he continued. "We must find allies across cultural, religious, and faith divides - we must find those voices which speak openly against Islamist extremism."
"British muslim imams have come together and issued a fatwa [religious edict - ed.] against jihadist extremists," he further noted.
Douglas Murray, a conservative commentator and associate director of the Henry Jackson Society, also headlined the event. 
"On behalf of everyone in this country, Jewish and non-Jewish, I think we need to be here today, to read and speak and think - because anti-Semitism is not only a problem for Jews, it is a problem for everyone," Murray said. 
"We have to stop the lies," he continued, noting that is has "become acceptable discourse for people to say that Israel is committing a 'genocide' instead of the most targeted military campaign against a terrorist group in history."
Frustration with communal leaders
Murray also called for the crowd to "please demand more from your communal leadership." 
"I'm not a big fan of communal leadership," he explained. "I don't have one, lots of people don't."
"But if you're going to have communal leadership: expect more of them, demand more of them!" he declared. "Don't wait weeks and weeks for people to then have to take the initiative for a day like this themselves; do more!"
Frustration at communal leaders was simmering during the protest, after Vivian Wineman and Laura Marks - representatives of the Board of Deputies - were booed and jeered during their speeches for what many perceive as inaction in the face of skyrocketing hate crime. 
"The Board of Deputies is on the front lines in the fight against anti-Semitism," Marks declared, to the vocal bemusement of many in the crowd. "Specifically in the new tactic, which is to draw parallels between Jews and Israel and Nazis."  
The jeers are reflective of an ongoing backlash against the Board, which was recently targeted by an advertisement campaign in the Chronicle as protests against Jews and Israel - and hate crime - continued to silence from the committee. 
"What are you actually doing about this situation? Apart from issuing the odd press release," asked the ad, which was sponsored anonymously and called for direct action such as large-scale demonstrations - like these - protesting anti-Semitism.
Unprecedented hate crime
Hate crime in Britain has reached the second-highest recorded levels in recent memory, a recent survey revealed by the Community Security Trust (CST), which monitors and combats anti-Semitism in the UK, after Operation Protective Edge in Gaza began on July 8. 
Thousands of people have participated in anti-Israel protests, and the demonstrations have been accompanied by anti-Semitic violence. Over the past several weeks, for example, pro-Palestinian rioters vandalized a Birmingham Tesco store out of rage over a refusal to boycott Israeli products; in a similar incident, hundreds of demonstrators rioted outside the Kedem store in Manchester, in a series of clashes which culminated in dozens of death threats being hurled at the store's owners.
Recent statistics prove that hate crimes against Jews have risen 383% worldwide since 2013, including a 436% hate crime hike in Europe.
According to a Jewish Chronicle poll in August, the rise in violence has led nearly two-thirds of the UK's Jewish population to question their future in the UK. 
The situation became so severe over the past several months that an emergency meeting was held between several Jewish leaders and groups to assess the future of British Jewry.