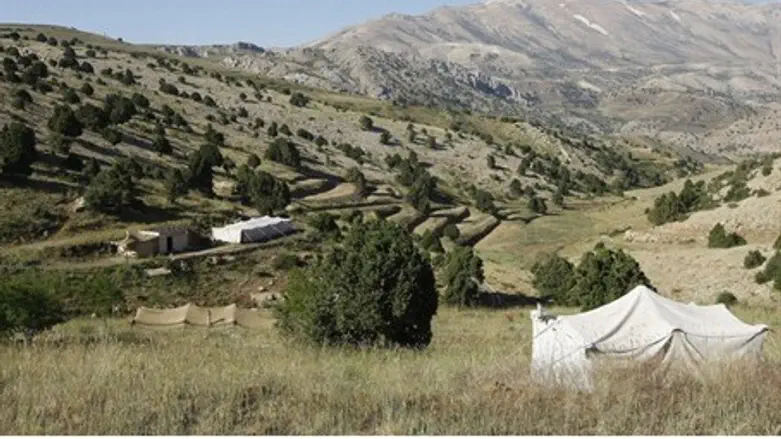 A campsite in Lebanon's Bekaa Valley
AFP/File
A member of the Al-Qaeda-linked Abdullah Azzam Brigades was killed during a military chase in east Lebanon, the Daily Star reported on Thursday.
The terrorist, Ibrahim Abdul-Moti Abu Muaileq who goes by the name Abu Jaafar, died Wednesday of wounds he sustained during a shootout with the military at an army checkpoint in the Bekaa area, the Lebanese army said in a statement quoted by the newspaper.
The statement said the army erected a temporary checkpoint in the area to detain the wanted man. Abu Muaileq failed to stop at the checkpoint and opened fire at soldiers, wounding an officer, the statement said.
The army fired back and wounded Abu Muaileq who later died from his wounds in a local hospital while a second man who accompanied the suspect was able to escape, the army said.
Abu Muaileq was also linked to the jihadist Syrian rebel group the Islamic State of Iraq and the Levant (ISIS) which claimed responsibility for a suicide attack in Beirut's southern suburbs on January 2.
The group said the bombing was in retaliation to Hezbollah's military involvement in Syria.
Abu Muaileq coordinated with the head of ISIS to transport suicide bombers from Syria's Qalamoun into Lebanon and carry out terrorist attacks, the army said, according to the Daily Star.
The Abdullah Azzam Brigades has claimed responsibility for recent a twin suicide attack against the Iranian embassy in Beirut.
Lebanon recently arrested the group's leader, Majed bin Muhammad al-Majed, who later died while in custody. In response, the group vowed to keep up its attacks against Iran, Hezbollah and Israel.
The Abdullah Azzam Brigades' previous attacks include rocket fire on Israel. The group has attacked northern Israel multiple times over the past four years.