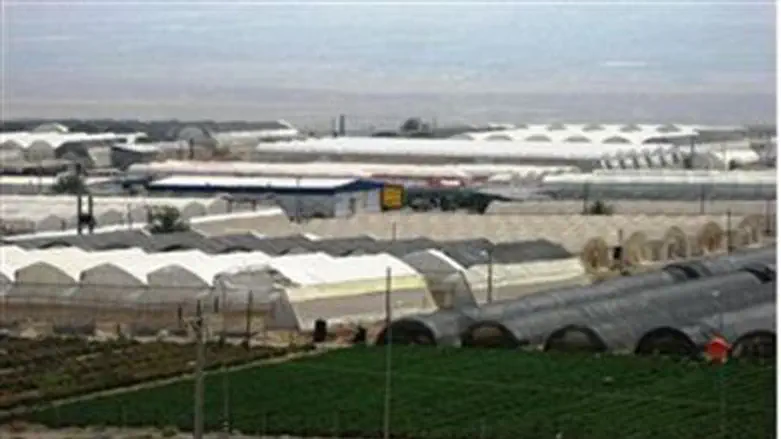 Jordan Valley Greenhouses
Israel news photo: Hagai Huberman
In an interview with Arutz Sheva, prominent Israeli military historian Aryeh Yitzchaki said that those who advocate an Israeli withdrawal from the Jordan Valley – like former Mossad head Meir Dagan – are dangerously mistaken. Dagan, who several days ago detailed why he believed Israel could withdraw from the area – that Israel's eastern border with Jordan was secure, and that the IDF could handily take care of any security problems caused by the Palestinian Authority – was not borne out by the history of the past decade.
"A storm of Arab unrest is raging to the east," said Yitzchaki, as just one look at the situation in Iraq shows. Muslim radicals have made great advances there, and the country is on the verge of being turned into a terrorist state. In the past, Israel was concerned that a strong Iraqi army could join with Jordan and Syria in attacking Israel. That danger still exists – as does the danger that Iraq could export its radical revolution to those countries as well, he added.
Rebels in Syria are working with their comrades in Iraq, with the aim to build a united Arab nation, called "A-Sham." If they succeed, there is little chance Jordan could survive in its current form, and Israel will be facing on its eastern border a huge, and very hostile, Arab terror state, he said.
"We are headed for a very 'hot summer' on our eastern border," Yitzchaki said. "Those in charge of our defense must look at the situation from all angles, and understand that without a presence in the gateway to the Land of Israel, the Jordan Valley, Israel's security will be compromised. Immediately to the east things look calm, but 100 kilometers beyond a monster is being built."