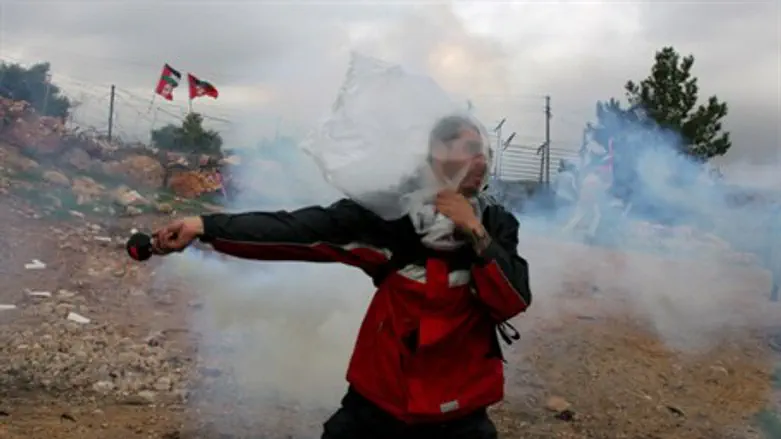 Man throws tear gas during riot
Israel news photo: Flash 90
The IDF prosecution has closed its investigation into the death of Mustafa Tamimi, a Palestinian Authority Arab man who died after being hit by a tear gas canister during a protest in 2011.
Investigators found that the soldier who fired the canister had not acted improperly. The soldier was in danger, and could not see Tamimi in the line of fire, they said.
The investigation began in December 2011, immediately after the death. The IDF took testimony from soldiers who were present.
The soldier who fired the canister testified that he had used tear gas after coming under attack. The vehicle he was in had been targeted by Arab rioters, and was being hit by a barrage of rocks, he said.
He told investigators that he had not seen anyone in the line of fire. Using videos shot at the scene, an expert determined that the soldier was telling the truth, and that based on Tamimi's path of movement, there was no way that the soldier could have seen him.
Investigators ran into trouble when they attempted to recreate the incident. Multiple attempts to reenact the attack and subsequent shooting were interrupted by Arab mobs hurling rocks and by riots.
Investigators managed to locate a Palestinian Arab man who had been next to Tamimi at the time of the shooting. Photos appeared to show the two men hurling rocks at an IDF jeep together. However, the man refused to testify.
"In light of the materials that were gathered, we found that the [tear gas] fire was in accordance with the relevant regulations, and did not constitute a crime," investigators wrote. The soldier who fired will not face criminal charges, they added.