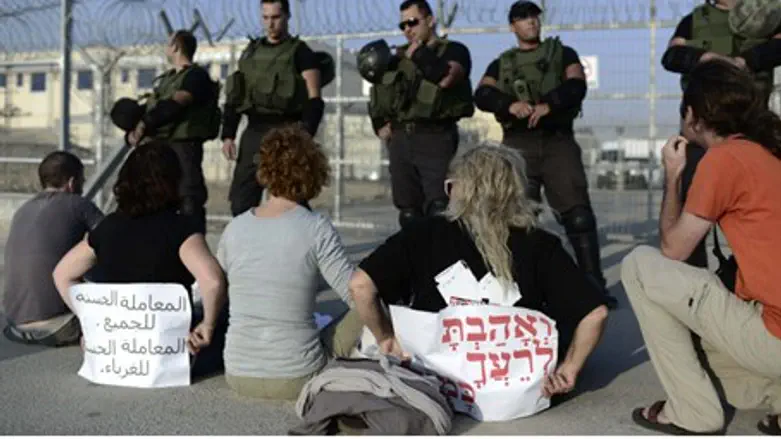 Protest against infiltration law outside Isra
Flash90
Enforcement and implementation of the new law imprisoning illegal aliens for one year will be over 500,000 shekel, Walla reports. 
The law, which was passed by the Cabinet Sunday, allows the detention of infiltrators to extend to up to 12 months in special detention centers. The move follows the High Court abolishing old regulations allowing imprisonment for up to 3 years on ground of being unconstitutional. 
The state will spend 443 million shekel over the coming year in implementing the new amendment to prevent infiltration, which was proposed by Interior Minister Gideon Sa'ar - according to a bill to be submitted Sunday by Prime Minister Binyamin Netanyahu, the Minister of Interior and the Minister of Public Security. The bill outlines an initial payment of 195 million shekel, with additional payments eventually amounting to 248 million. 
For the construction of the necessary detention facility for the infiltrators, according to the proposed decision-makers, the Ministry of Finance would have to allocate to the Ministry of Defense over 25 million shekel effective immediately, 59 million shekel in additional payments over the course of a predefined period.
Moreover, for the actual operation of the facility by the Prison Service, the Ministry of Finance needs to provide the Ministry of Public Security a lump sum of 55.6 million by the end of 2013. By the end of 2014, the total will amount to 93 million shekel. 
The proposal also includes the implementation of new programs for police security forces to ensure the safety of large cities against illegal immigrant migration, which has caused waves of violence in such places as South Tel Aviv. The Ministry of Finance would allocate the Ministry of Public Security a total of 44.6 million shekel for the project, with at least 28.6 million up front. 
The Ministry of Immigration Authority would also receive more funds to strengthen their personnel: 3 million shekel up front in 2013, 31 million in 2014, and 14 million in 2015.