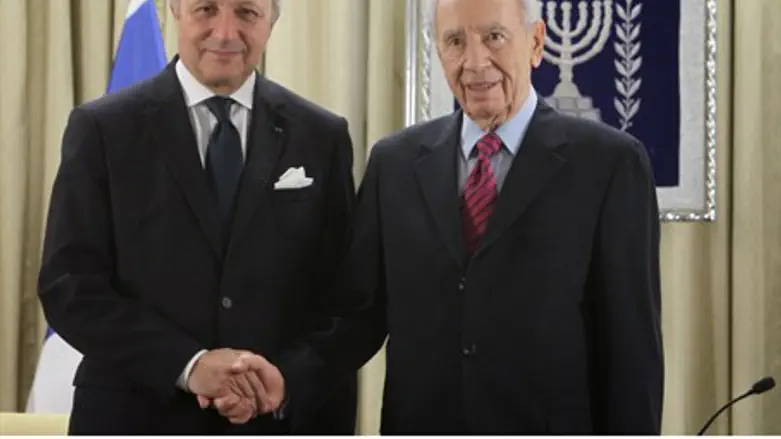 Peres and French Foreign Minister Fabius
Flash 90
President Shimon Peres is warning that if Iran manages to build an atomic bomb, other countries in the Middle East could follow suit.
The warning was made in an interview Peres gave to the French weekly Le Journal du Dimanche. The interview, published on Sunday, comes as French President Francois Hollande is set to arrive in Israel for an official visit.
"We are convinced that if Iran manufactures its bomb, all the countries of the Middle East will want to follow suit," Peres told the French magazine, according to a report by AFP.
He noted that Israel was satisfied with France's position about Iran's nuclear program during recent talks with world powers in Geneva.
During the talks, France's Foreign Minister, Laurent Fabius, warned his colleagues not to be fooled by Iran's proposals saying that while "the initial text [of the proposal] made progress," there were still a couple of unsatisfying points.
Those comments, which are similar to concerns Israel has expressed over the agreement, caused Iranian officials to slam Fabius, claiming his views "express the positions of the Zionist regime."
"It is true that we in Israel really enjoyed seeing the firm French stance towards Iran," Peres told Le Journal du Dimanche, adding that that the pressure on Iran should continue.
He also noted that a nuclear Iran would be dangerous due to its "aggressive behavior, support of terrorism and developing a hegemonic strategy."
On Friday, Prime Minister Binyamin Netanyahu also hailed France's position on Iran and urged Paris to stand firm in international negotiations over Tehran's nuclear program.
"We hope France will not yield," Netanyahu told the Le Figaro newspaper.
"For us, the United States remains an important ally, the most important ally. But our relationship with France is also very special," he added.
"On the Iran issue, our countries have defended common stances for years, regardless of the party in power, and we are maintaining this vital partnership with President  Hollande," Netanyahu told the French newspaper.
"We welcome his coherent and resolute stance on the Iranian issue," he said.