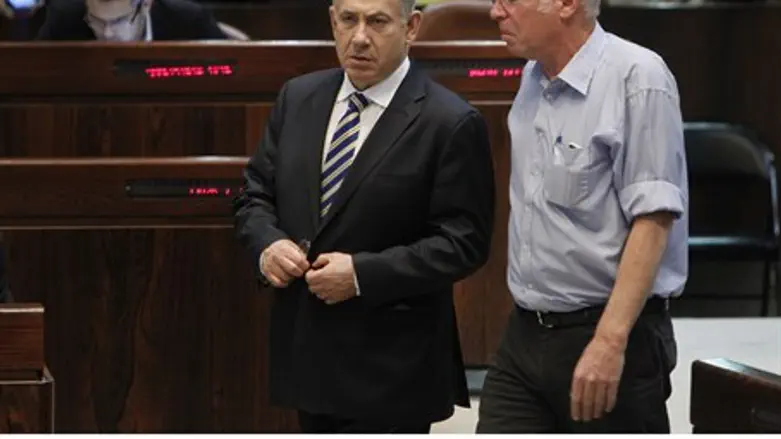 PM Netanyahu and Minister Uri Ariel
Flash 90
Prime Minister Binyamin Netanyahu on Tuesday evening reprimanded Housing Minister Uri Ariel (Jewish Home/Bayit Yehudi) for promoting Jewish construction in Judea, Samaria and eastern Jerusalem.
A statement from the Prime Minister's Office said that Netanyahu directed Minister Ariel to reconsider all of the steps for evaluating planning potential that he distributed without any advance coordination.
The Prime Minister told Minister Ariel, according to the statement, "This step does not contribute to settlement. On the contrary, there is damage here for settlement. This is a meaningless step – legally and in practice – and an action that creates an unnecessary confrontation with the international community at a time when we are making an effort to persuade elements in the international community to reach a better deal with Iran.
"At this time," said Netanyahu, "the attention of the international community must not be diverted from the main effort – preventing Iran from receiving an agreement that will allow it to continue its military nuclear program. As a member of the Government, action must be coordinated and have the benefit of forethought."
Minister Ariel told Prime Minister Netanyahu that he accedes to his request to reconsider all publications that were issued today regarding the evaluation of planning potential and said that in any case the issue was the potential for planning and not any sort of official stage.
Arutz Sheva has found out that Netanyahu's actions came as a result of complaints by extreme leftist organizations over Israel's latest construction plans.
Those organizations reportedly informed the U.S. about Israel's announcements, resulting in an official from the Obama administration phoning Netanyahu and demanding clarifications regarding the new construction. Netanyahu, angered by the phone call, then reprimanded Ariel.
Earlier Tuesday, it was reported that tenders had been announced for 20,000 new homes in Judea and Samaria.
Netanyahu's office hurried to stress that he had opposed 1,200 of the 20,000 homes which are set to be built in the E1 area connecting Jerusalem to its eastern suburb Ma'aleh Adumim. Building plans in that vital area for Israeli contiguous control have elicited Arab protest in the past.
Responding to the latest Israeli plans, Palestinian Authority (PA) Chairman Mahmoud Abbas threatened that unless Israel cancels the tenders he would end the ongoing peace talks.
PA negotiator Saeb Erakat told AFP that he had been given the job of passing the ultimatum to the Arab League as well as the US, EU, Russia, and UN.
U.S. State Department spokeswoman Jennifer Psaki expressed "deep concern" over the announced construction, adding that "we were surprised by this announcement and are currently seeking further explanation from the government of Israel."
Psaki furthermore echoed Secretary of State John Kerry's position that the U.S. deems Jewish building in Judea and Samaria as "illegitimate."