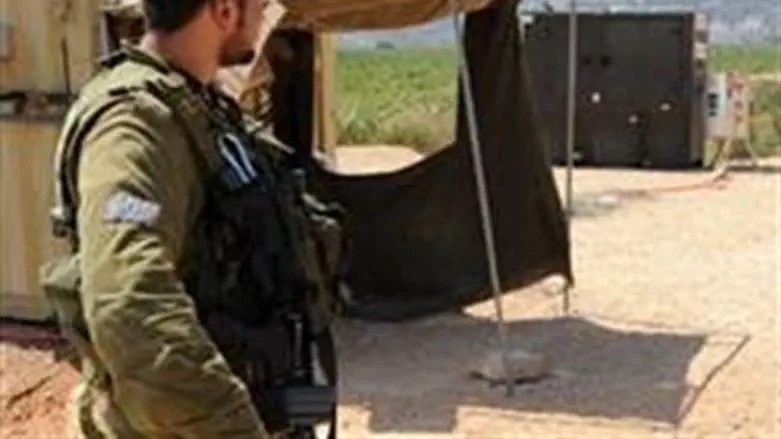 Soldiers in Jordan Valley Illustration
Flash 90
In a tragic turn of events, it has been revealed that Colonel (Res.) Sariya (Yaya) Opher, murdered last night in his Jordan Valley home of Brosh, was killed on the same day as his brother, who died 40 years ago during the Yom Kippur War.  
Major Yitzchak Opher, a pilot, was killed on October 11 1973, when his plane was shot down over the Golan Heights.
Israel's Yedioth Ahronoth quoted a senior officer who served with Sariya (Yaya) Opher saying that his fighter pilot brother's death had been a strong influence on his own military career.
Opher enjoyed a distinguished career in the IDF, serving as a Commander in the Givati Brigades, a commander of the Gaza Strip, and a founder of the elite Shaldag air force commando unit.

In the early hours of Friday morning, Opher was brutally murdered by two Palestinian Authority Arabs, who attacked him with axes and iron bars. His wife, Monique Omer, escaped with minor injuries as she fled the scene to call for help. 

Five arrested

Security forces have arrested five Palestinian Authority Arab men on suspicion of carrying out the brutal attack. The five were all taken for interrogation by Israel's internal security forces (Shin Bet).
Wife speaks from hospital bed

Opher's wife Monique Omer spoke about her husband from her hospital bed in Afula Friday morning.

"Is there anyone who didn't know Yaya Opher?" she said in tears, "A soldier for many years, Commander of the Gaza Strip, Givati and Shaldag (air force commandos)." 
"How were they able to do that to Yaya?" she asked.
"A wonderful man, a wonderful father, wonderful grandfather, there are no words," she added. "There was no one who didn't love him who didn't connect to him," Monique wept.