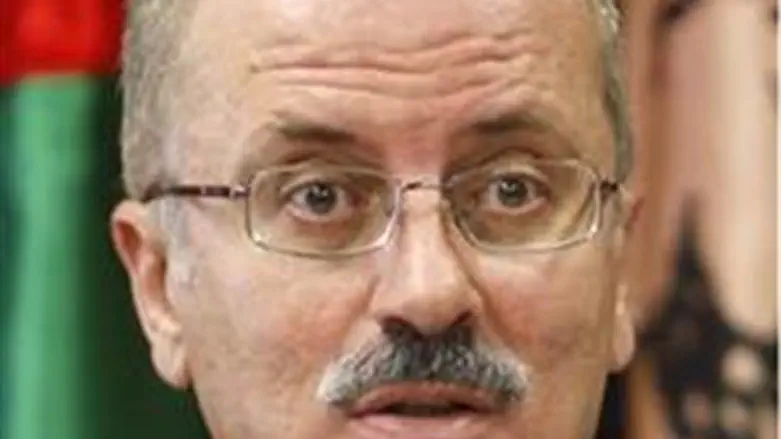 Rami Hamdallah
Reuters
The newly-appointed Palestinian Authority Prime Minister Rami Hamdallah is likely to withdraw his resignation after meeting with Chairman Mahmoud Abbas, a senior official said Friday, according to the Bethlehem-based Ma'an news agency.
Hamdallah left a first meeting with Abbas on Friday without making any statements to the press, and Abbas's office did not comment following the meeting, reported Ma'an.
According to a knowledgeable PA official, Hamdallah will make a final decision after a second meeting with Abbas on Saturday. The official said Friday's talks were positive.
Abbas has made intensive efforts to persuade Hamdallah not to resign, according to Ma'an.
On Thursday, Hamdallah tendered his resignation – after just two weeks on the job – following a heated argument between his deputies Muhammad Mustafa and Ziad Abu Amr.
A 25-member cabinet under Hamdallah's leadership was sworn in on June 6 and, notably, included the appointment of two deputy prime ministers, Ziad Abu Amr and Mohammed Mustafa.
Mustafa, who heads the Palestine Investment Fund and was handed the role of economic adviser, was initially tipped as a possible successor to the former Prime Minister, Salam Fayyad.
When the new government was sworn in, it was he who held the first news conference following its initial cabinet meeting on June 11, not Hamdallah, in a move that raised a few eyebrows, according to Ma'an.
Hamdallah, an independent considered close to Abbas's ruling Fatah faction who was head of Al-Najah University in Shechem and secretary general of the Central Election Commission, quickly pledged after his nomination to follow a similar path to Fayyad and said he would leave the government line-up largely unchanged.
Fayyad resigned in mid-April after months of difficult relations with Abbas which hit a crisis over the resignation of finance minister Nabil Qassis, which the premier accepted but Abbas did not.
(Arutz Sheva's North American Desk is keeping you updated until the start of Shabbat in New York. The time posted automatically on all Arutz Sheva articles, however, is Israeli time.)