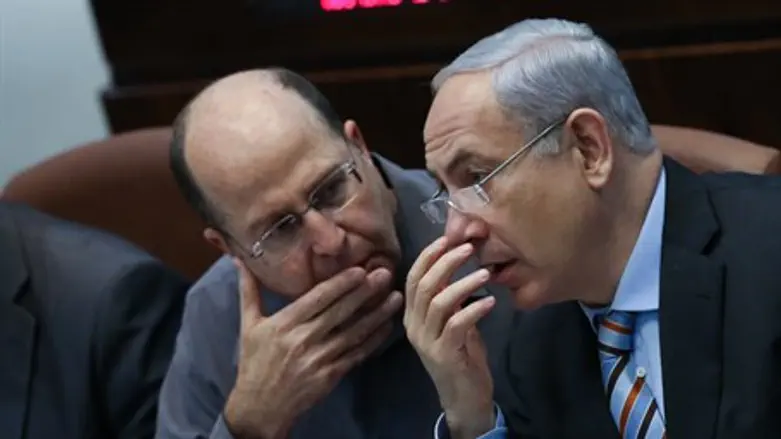 Netanyahu and Yaalon
Flash 90
Israel issued an unusually blunt reaction to the election of Iran's new president on Saturday by saying it was supreme leader Ayatollah Ali Khamenei who decides on nuclear policy, not the president.
"Iran's nuclear program has so far been determined by Khamenei, and not by Iran's president," the foreign ministry said, after Hassan Rouhani was elected to succeed Mahmoud Ahmadinejad.
"After the election, Iran will continue to be judged by its acts, in the nuclear field as well as that of terrorism," the statement said.
"Iran must conform to the demands of the international community and stop its nuclear program and cease spreading terrorism in the world."
Rouhani was seen as a moderate candidate, but Israel's foreign ministry questioned the moderation attributed to Iran's president-elect.
"The president of Iran was chosen by Ayatollah Khamenei, who disqualified and prevented the candidates who did not conform to his extremist views from standing," the statement added.
But a senior Israeli official speaking on condition of anonymity told AFP the election showed the Iranian people's desire for change.
"The Iranian people have showed their leaders that they oppose the path that has lead to sanctions and made their lives more difficult," he said.
"If Iran does not respect the demands of the international community and immediately cease its nuclear program, the international community must increase the pressure on Iran," he added.
The statement by the Foreign Ministry echoes similar words spoken earlier by Defense Minister Moshe Yaalon. The unusually quick and cold reactions to Iran's election may reflect a concern by Israel that the election of a moderate will be presented by opponents of a strike on Iran as supposed proof that the threat from Iran has been diminished, making such a strike unnecessary.