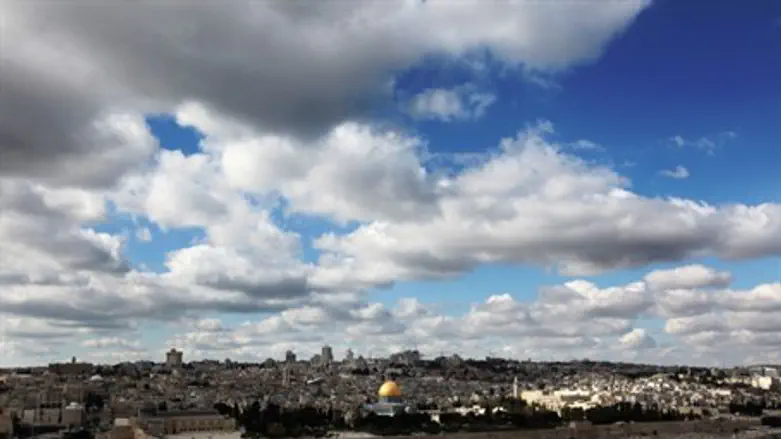 A view of Jerusalem from the Mount of Olives
Israel news photo: Flash 90
The American Friends of Ateret Cohanim will hold its 28th Annual Dinner on Monday, May 6 at the Elite Palace in Queens, with keynote speakers Lt. Col. Ralph Peters and journalist Steve Malzberg.
Ateret Cohanim is a  non-profit organization located in Jerusalem, and which aims to fulfill a generations old dream of rebuilding & securing a united Jerusalem, strengthening Jewish roots and reestablishing thriving Jewish communities that are centered around educational institutes in and around the Old City of Jerusalem.
The organization is dedicated to helping Israel hold on to its united ancient capital in the face of an increasingly hostile world.
Ralph Peters is a retired army officer, military analyst and writer, who defends Israel at every turn. During President Barack Obama's recent trip to Israel, Peters said that Obama "came into office with a chip on his shoulder against Israel and thought Israelis are oppressors," adding that the president had only now "finally figured out" that "Israel is the only anchor of stability in the region."
Peters, author of 24 bookds, writes an opinion column for the New York Post and for USA Today and also serves as strategic analyst for Fox News.
Steve Malzberg, the second keynote speaker, served for 25 years a radio personality on WABC Radio in New York, as a talk show host and sports commentator. Malzberg is now a regular columnist for the online magazine Newsmax.
Every year during the dinner, several awards are presented. This year, the Rabbinic Leadership Award will go to Rabbi Yaakov and Elana Kermaier. Rabbi Kermaier is the Mora D'Asra, Torah leader, of one of America's most prestigious synagogues, the Fifth Avenue Synagogue in New York City.
The Bonei Yerushalayim (lit. builders of Jerusalem) honorees are Jack and Barbara Beyda from the Sephardic Community in Flatbush, as well as Marcus and Sara Lehmann.
Mark Langfan, who is a regular contributor to Arutz Sheva and who was recently named as one of the "top 100 people positively influencing Jewish life," and his father William K. Langfan, a World War II veteran and witness to the Nazi death camps whose writings also appear on Arutz Sheva, will receive the Oheiv Yisrael Award.