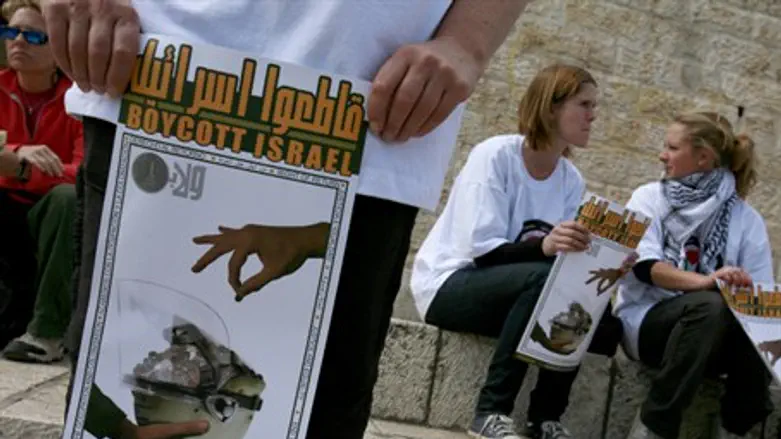 posters calling to boycott Israel
Flash 90
The University of Toronto Mississauga Students' Union (UTMSU) Board of Directors last week voted overwhelmingly in favor of endorsing a 2005 call for a Boycott, Divestment and Sanctions (BDS) campaign against Israel, Shalom Toronto reports.
A statement posted on the Facebook page of the "Students Against Israeli Apartheid" organization at University of Toronto Mississauga said, "The motion comes as a resounding triumph for student activists nationwide and contributes to broader international solidarity movements against human rights violations.
"The motion, similar to the one adopted on South Africa during the apartheid era, acts as a non-violent means to pressure the state of Israel to comply with international law," said the statement, adding, "The motion demands that Israel ends its occupation of all Arab lands occupied in June 1967, dismantle the illegal separation wall in the West Bank, allow Palestinian refugees their internationally guaranteed right of return as stipulated in UN resolution 194, and recognize the fundamental rights of the Arab-Palestinian citizens of Israel to full equality."
The statement noted that the vote on the Israel boycott passed with four abstentions and no votes against the motion. The resolution, it said, calls on "the Board of Directors to commit to identifying and divesting from companies involved in violations of international law until apartheid is banished in the region. This endorsement of BDS on part of the student union executives will be followed by efforts to lobby the UTM administration to withdraw its investments from companies profiting from human rights violations, war crimes and oppression including Hewlett Packard, Northrop Grumman, BAE Systems, Lockheed Martin, and others."
A member of Students Against Israeli Apartheid (SAIA UTM), Shefa Obaid, was quoted in the statement as having said, "Whether or not you choose to endorse such a campaign, your silence is not neutrality but rather complicity and your money will continue to be abused in a biased manner."
UTMSU represents over 12,500 undergraduate students at the University of Toronto Mississauga, the second-major division of Canada's largest University.
In December, the Graduate Student Union (GSU) at the University of Toronto also decided to endorse the BDS campaign against Israel.
The GSU overwhelmingly voted in favor of a resolution to endorse the global campaign for BDS at their annual general meeting, with approximately 97 percent of students voting in favor of the motion.
Similar motions have been passed by student groups at other Canadian universities over the past year, including at York University, the University of Regina and Carleton University, noted Shalom Toronto.
Last week, the Oxford University Students' Union (OUSU) rejected a motion calling for sanctions against Israel.
The OUSU motion calling for the Oxford student union to boycott Israeli institutions, goods and produce lost by a vote of 69-10, with 15 abstentions.