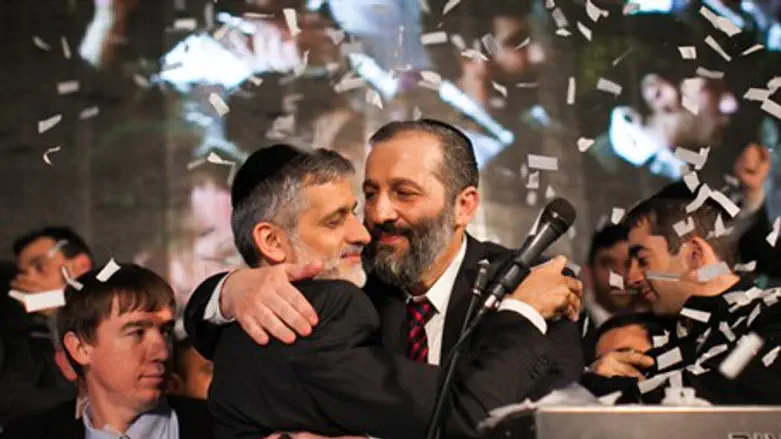 Aryeh Deri and Eli Yishai of Shas
Flash90
As Tzipi Livni's Hatnua party joins Prime Minister Binyamin Netanyahu's coalition, it seems Shas may be next in line.
Shas MK Aryeh Deri, one of the party's three heads, called Livni on Tuesday evening to congratulate her on having joined the government. Livni thanked him, and said she expected to see Shas sign a deal with Netanyahu soon, as well.
Deri praised Netanyahu's choice to bring Livni in to the coalition. "Tzipi Livni, with her experience, will certainly have much to contribute when it comes to the challenges we face," he said.
"Today the state of Israel needs a government that will bring the people together, that will not cause conflict and dialogue based in negating the other," he added.
While Shas welcomed the news of Livni's spot in the next government, sources in the Bayit Yehudi (Jewish Home) party were less than thrilled. MK Uri Ariel termed the decision to bring Livni into the coalition "a mistake."
Others joined him in expressing concern over Netanyahu's decision to put Livni in charge of negotiations with the Palestinian Authority. "To put negotiations in the hands of someone who negotiated to divide Jerusalem, and who was responsible for the Disengagement – this will definitely make it harder for the Bayit Yehudi party in coalition talks."
"While we were presenting our views on settlement and waiting for the Likud's answer, Netanyahu was apparently busy coordinating diplomatic positions with Tzipi Livni and Amir Peretz," they added.