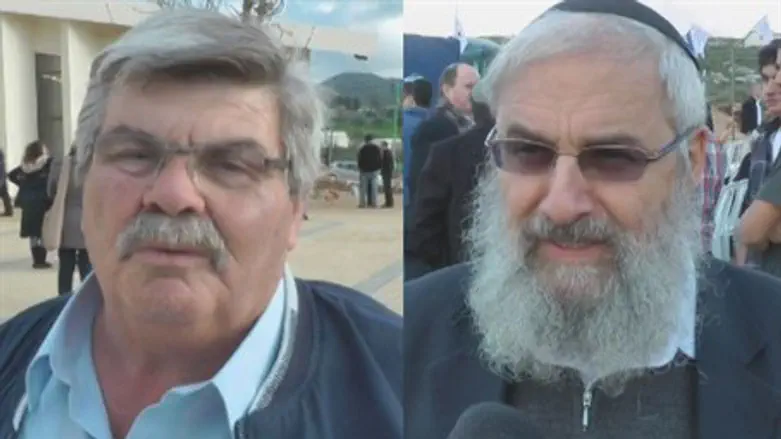 Bereaved fathers.
Yoni Kempinski
Two years have passed since one of the most horrific terrorist massacres ever: the barbaric and cold-blooded slaughter of five members of the Fogel family at Itamar, two parents – Ehud and Ruthie Fogel – and three young children – Yoav (11), Elad (4) and Hadas (three months). The murderers, two Arabs from the neighboring village of Awarta, had invaded their home on Sabbath eve.
(Please make sure you have captions turned on at the bottom of the Youtube screen).
After being captured, the young murderers said they had viewed the murder as "an adventure." They are not believed to have been directly sent on the bloody mission by any terror organization. Rather, they appear to have been motivated, like so many other Muslim Arab terrorists, by the incessant incitement to terror spewed forth by Palestinian Authority media, which is controlled by the Fatah terror organization.
Arutz Sheva spoke to Haim Fogel and Rabbi Yehuda Ben Yishai, the fathers of Ehud Fogel and Ruthie Fogel, respectively. Listening to their calm and thoughtful words, spoken as their emotions of grief are obviously being held back, one plainly sees the chasm between Jewish culture and Arab Islamic culture. Both fathers embody, in word and deed, the Jewish spirit of intelligent yet unshakable faith, patient perseverance and creativity, offering stark contrast to the wailing, cursing and threats that are often typical of Arab Muslim mourning, especially when Israel can be blamed for the deaths.
Israel's enemies should look at Arutz Sheva's interviews with Haim Fogel and Rabbi Yehuda Ben Yishai and understand why they have no chance in the world of defeating the Jewish nation. The video will drive home to them that whatever suffering the Arabs can dish out to the Jews with their savagery, the eternal Jewish nation will not be driven to despair. The Jews, who have outlived all the ancient nations that persecuted them, will continue building their national home and military prowess, and wait for the right moment to avenge the blood of their innocents.