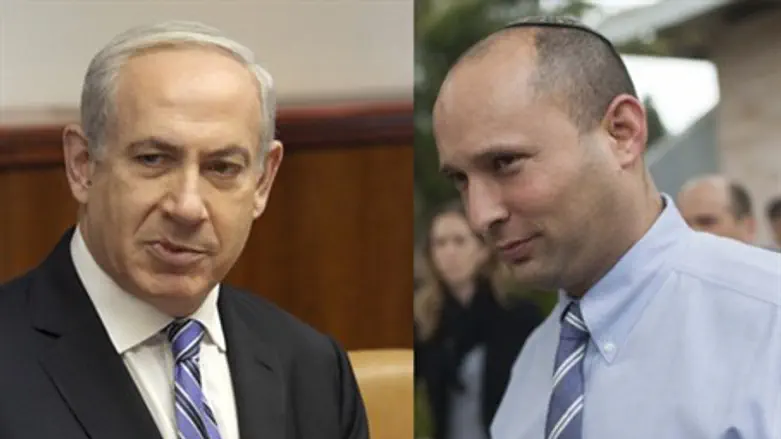 Netanyahu / Bennett
Israel news photo: Flash 90
There are no real coalition talks happening between Likud Beytenu and the Bayit Yehudi (Jewish Home) party, Jewish Home party negotiator Eyal Gabai said Sunday. Likud may have offered ministries, he told Army Radio (Galei Tzahal), but it has not yet sat down with the Jewish Home team to discuss key parts of its platform.
"There are no negotiations, and treating ministries as coalition negotiations is just ridiculous," he said. "This is a government, it needs to be based on issues."
"It was said in an ultimatum that they offered us the education ministry. But will the next government cut the defense budget, or the education budget? That's a question nobody is putting on the table," he explained.
Gabai also explained the Jewish Home party's interest in the makeup of the coalition. "Ultimately, a coalition agreement is a declaration of intent, and implementation depends on who the coalition partners are," he said. "Talking about plans is irrelevant without knowing who your partners are."
"The citizens of Israel will want to see real change at the end of four years, and that will be determined in large part by the character [of the government], and the coalition partners will determine the character," he continued.
As an example, he said, "I hear that there is one suggestion that [Labor head] Shelly Yechimovich be the Finance Minister and Tzipi Livni have sole control of diplomatic talks. [In that case] we could just make [Meretz head] Zahava Gal-On the Prime Minister."
The Jewish Home party has reportedly made a deal with Yair Lapid's Yesh Atid party to enter the coalition together or not at all, in an apparent attempt by both parties to guarantee a coalition ally with similar goals.
Sources in Likud have questioned the motivation behind the deal, suggesting that Yesh Atid's platform differs from Bayit Yehudi's on key issues.
"I'm very happy that senior Likud members are worried for the Jewish Home's voters," Gabai said. "We didn't see that during the elections."