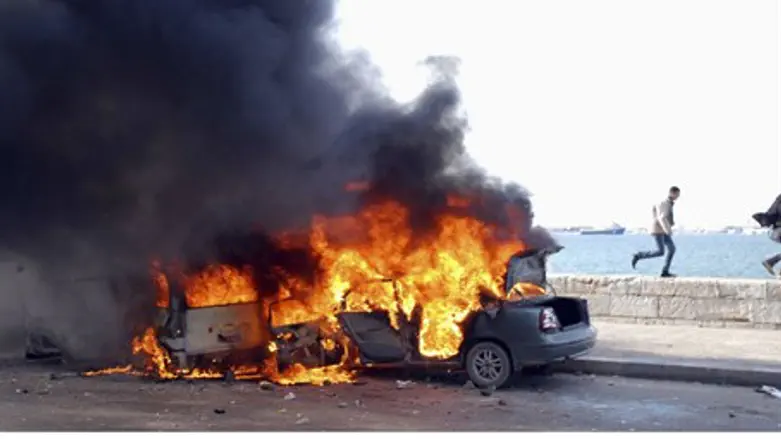 Anti-Morsi protesters run in front of burning
Reuters
Tensions were rising late Saturday over a divisive new constitution being put to Egyptian voters in the first round of a referendum pushed through by President Mohammed Morsi, despite weeks of opposition protests.
AFP reported that the opposition coalition, the National Salvation Front, accused Morsi's Muslim Brotherhood of "vote rigging" but stopped short of calling a boycott.
Instead it appealed to Egypt's 51 million voters to reject the referendum, in which voting was extended by four hours to 11:00 p.m. local time because of long lines late into the night.
The opposition's allegation added to the highly charged atmosphere around the vote, which was preceded by three weeks of anti-Morsi protests and clashes in Cairo last week that killed eight people and injured hundreds.
Late Saturday, riot police fired tear gas to disperse dozens of hardline Islamists who attacked the central Cairo headquarters of the opposition liberal Wafd Party with fireworks and stones, officers at the scene told AFP.
On the eve of the referendum, clashes between stone-throwing and sword wielding Islamists and opposition supporters erupted in the second-biggest city of Alexandria, injuring 23 people the official MENA news agency reported.
Voting was being staggered, with half the country voting on Saturday and the other half a week later because many judges were not willing to oversee polling.
Official results will be announced after the second round, an official told AFP. Informal results from the first round were expected to trickle out hours after polls closed on Saturday and tallying began.
International watchdogs, the UN human rights chief, the United States and the European Union have expressed reservations about the draft constitution because of loopholes that could be used to weaken human rights, including those of women, and the independence of the judiciary.
Analysts said it is likely, but not certain, that the draft constitution would be adopted.