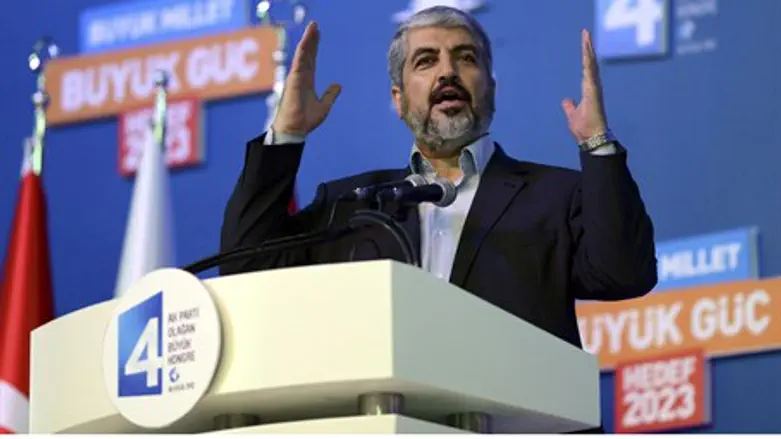 Khaled Mashaal
Reuters
Syria's official television launched on Tuesday a scathing attack against Hamas leader Khaled Mashaal, calling him "a banned fighter" and a man "who sold his struggle for power."
A statement read on the network said that the Damascus regime is "happy that the man who sold his struggle for power left the country." The statement blasted Mashaal for collaborating with Turkish Prime Minister Recep Tayyip Erdogan, and attending a conference earlier this week of Erdogan's Justice and Democracy Party (AKP).
The network also leveled criticism over Mashaal's speech to the conference, in particular his attitude towards Syria. It mocked Mashaal and said that he must first show empathy to the situation of the "Palestinians, including those residing in the lands occupied in 1948" and towards the people of Gaza which the network claimed are under siege by Egypt.
Mashaal was also accused by attempting to normalize relations with Israel and the United States so that he can win the title of Chairman of the Palestinian Authority.
Despite previously being close allies, there has been a rift between Hamas and the Syrian regime ever since the uprising against President Bashar Assad began. Reports surfaced last year that Hamas is moving its headquarters from Damascus to Egypt and the terror group is strengthening itself in the Sinai.
Some reports claimed that the Damascus-based Hamas leadership left Syria after the Syrian government asked the Hamas leaders to leave.
Subsequently it was reported that dozens of Hamas members have quietly returned to Gaza from Damascus. Later reports said that Hamas leaders attached to the organization's long-standing Damascus bureau are fleeing Syria with their families as Assad's regime grows increasingly unstable.