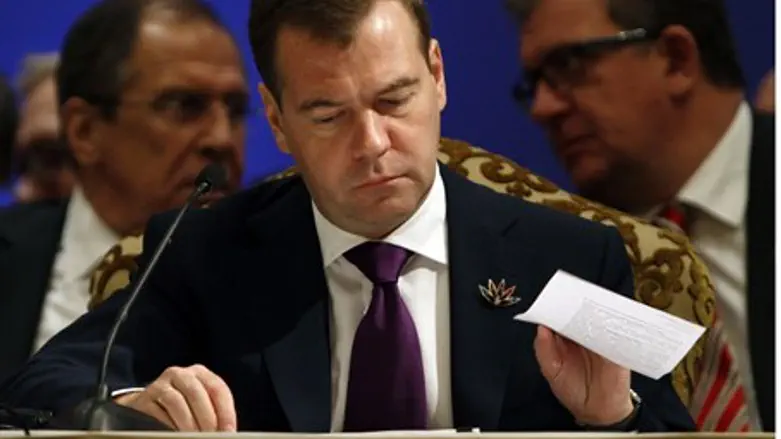 Dimitry Medvedev
Reuters
Russia's lower house of parliament confirmed former president Dmitry Medvedev as prime minister on Tuesday.
The vote finalizes a job swap between Medvedev and former prime minister and returned president Vladimir Putin, who was inaugurated for a six year term on Monday.
The approval vote was comfortably won by Medvedev, who was backed by 299 deputies in the State Duma with 144 voting against his nomination.
Medvedev's approval was guaranteed after the ruling United Russia party and the largely pro-government bloc of the ultra-nationalist lawmaker Vladimir Zhirinovsky pledged their support.
Putin, on hand for the vote, then signed the decree meaning that Medvedev formally assumed his duties as premier.
However, the job swap has been the subject of growing concern in Russia over leaving power in the hands of the same men who have led the country for years on end.
The opposition Communist Party and 'Just Russia' faction largely voted against Medvedev, causing him to fall short of the symbolic 300 votes sought by the Kremlin.
Additionally, the legitimacy of Putin's electoral victory in the March presidential contest - in which he was tallied as having won 63.6 percent of the vote - has been questioned by opponents.
"Everything as always has been decided without consulting the people ... People don't like this," Ilya Ponomaryov, one of the organizers of protests that were triggered by allegations of electoral fraud last December," told AFP.
Nikolai Levichev, a senior member of the Just Russia party, told AFP that "many of the promises he [Medvedev] made - such as on battling corruption and strengthening the independence of the judiciary - have not been fulfilled."
Putin had earlier made a rare appearance in the State Duma to promote his protégé's candidacy, while Medvedev also outlined his program as prime minister.
"I will do my best to maintain the positive dynamics of key directions in social and economic development and solve the problems that stand in the way of achieving our goals," Medvedev told lawmakers.
He also said the government should become more accountable and responsive to people's needs.
"We will have to consolidate society around solving key problems, and prove that the state is inseparable from the people and that it should serve the people," Medvedev added.
Putin submitted Medvedev's candidacy for confirmation almost immediately after his swearing-in ceremony Monday, which marked his return to the Kremlin for a third term.
The ruling tandem's private decision to trade places angered many Russians.
"This decision (on the job swap) was taken by me long ago, I have said this openly," Putin told parliament.
"We have changed nothing and presented nothing in front of society or parliament that could be called a trick or a political game," Putin insisted.
Putin had served as Medvedev's prime minister after ceding his Kremlin seat upon completing between 2000 and 2008 his first two terms as president.
Russia's constitution limits a president to two consecutive mandates, but does not bar a president from returning after a hiatus from office.