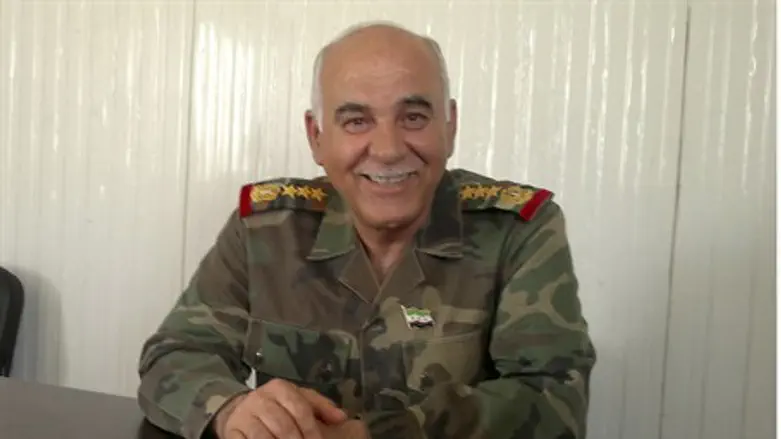 Mustafa al-Sheikh
Reuters
The rebel Free Syria Army late Thursday called on the UN Security Council intervene in the ongoing violence rocking Syria.
FSA supreme council head General Mustafa al-Sheikh said it was time "friends of the Syrian people" to arm the rebels and establish a military alliance to oust President Bashar al-Assad and protect Syria's citizens from the brutal 13-month crackdown that has killed at least 9,100 civilians.
al-Sheik's remarks, ciriculated via a video uploaded to the Internet, also included a demand that the UN establish "safe corridors" in all parts of Syria for the transport of humanitarian aid and civilian traffic.
FSA fighters are poorly equipped and disorganized, and lack funding and logistical support to mount a sustained insurgency against Assad's regime.
Meanwhile, a spokesman for UN-Arab League special envoy Kofi Annan says the ceasefire in Syria remains "very fragile" and that the situation on the ground is "not good."
"The situation on the ground is not good, as we all know," Fawzi said. "There are casualties every day. There are incidents every day. And we have to do everything we can to stop what's going on. The killing, the violence in all its forms."
Speaking in Geneva on Friday, Ahmad Fawzi said as soon as the UN Security Council adopts a resolution authorizing up to 300 monitors, Annan's office will "deploy very, very quickly."
There are currently seven monitors in Syria, with two more expected on April 23. A team of 30 is expected to be in place within one week.
"During the course of next week we hope that those that we are seconding from missions in the area who can move quickly will be there and we will make the numbers up to 30," Fawzi said.
The preliminary agreement between Syria and the United Nations on the deployment of UN observers says they will have freedom to go anywhere in the country by foot or by car, take pictures, and use technical equipment to monitor compliance with the ceasefire.
However, of critical importance, is that Assad continues to use artillery, helicopters, and aircraft to pound rebel strongholds and dissident  neighborhoods in what Assad's government descrines as a campaign against "foreign terror groups."
The larger contingent of up to 300 observers also still needs to be approved by the UN Security Council.
"As soon as the Security Council adopts a resolution authorizing up to 300 monitors on the ground, we will be ready to deploy very, very rapidly," Fawzi said.
"We are preparing for the deployment because we feel that it is going to happen sooner or later because it must happen," he added
UN Secretary-General Ban Ki-moon on Thursday directly accused Assad of failing to honor Annan's UN-backed peace plan that theoretically went into effect a week ago.
In France, Foreign Minister Alain Juppe called on the international community to live up to its responsibilities and warned that if Annan's peace plan "doesn't function, we have to envisage other methods."
However, while Western nations – including the United States – have edged towards providing the FSA with communications gear and other "non-lethal support," they have ruled out direct intervention or arming the rebels.
Either the international community succeeds in "pushing forward" Annan's six-point plan or "we see Assad squandering his last chance before additional measures have to be considered," Clinton said.
She talked of increased sanctions but declined to answer a question on whether it was fine for other countries to arm the rebels − a stand taken by Saudi Arabia and Qatar.
Her remarks came after sharp criticism that the US posture towards Syria was a tacit acceptance of Assad's continued grip on power.
Despite repeated US demands that Syrian President Bashar Assad step down, the Obama administration's policy maintains Assad has a firm hold on power and that military force would be required to oust him.