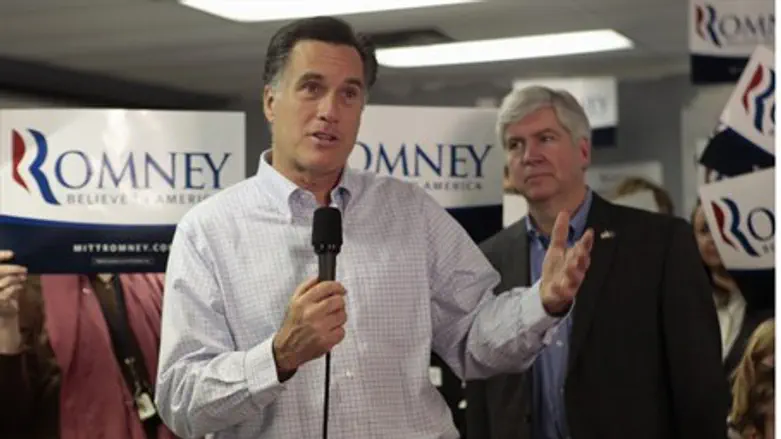 Mitt Romney
Reuters
Former Massachusetts Governor Mitt Romney and Pennsylvania Senator Rick Santorum both confirmed, on Tuesday, that they will join former speaker of the U.S. House of Representatives Newt Gingrich in addressing the annual American Israel Public Affairs Committee (AIPAC) policy conference, on March 6.
The Republican hopefuls will address the estimated 13,000 attendees of the pro-Israel lobby, vying for the Jewish vote on Super Tuesday, the day that bears a tremendous amount of weight on the outcome of the primaries. 
President Obama is scheduled to address the crowd on March 4, one day before his meeting with Israeli Prime Minister Benjamin Netanyahu at the White House. Leon Panetta, the U.S. Secretary of Defense is also scheduled to speak.
In the past, AIPAC refrained from giving the podium to presidential nominees, but changed its policy due to complaints made by 2004 Democratic candidate John Kerry.
Romney, Gingrich and Santorum have all announced their commitment to ensuring the safety and security of the State of Israel.
Romney has criticized President Obama for throwing "Israel under the bus" and suggested there should not be "an inch of difference" between the U.S. and Israel. His website says he "will reject any measure that would frustrate direct negotiations between Israel and the Palestinians."
Gingrich announced that the Palestinians are an "invented" people, but later clarified that he supports a negotiated Palestinian state. He also said that he would move the U.S. Embassy in Israel to Jerusalem.
Rep. Ron Paul was not invited to speak at the conference.