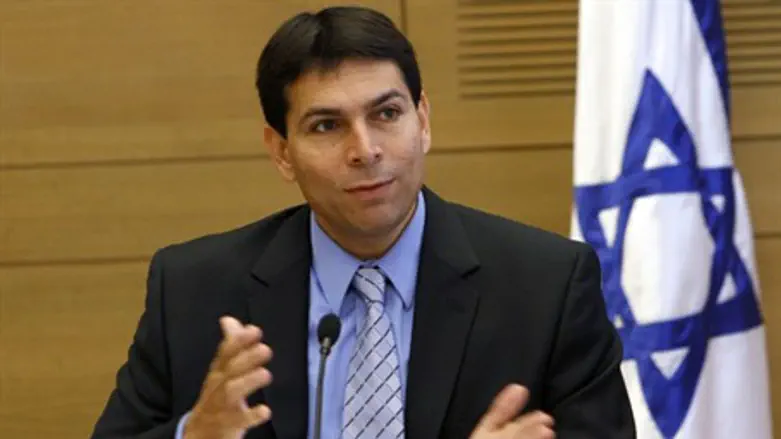 MK Danny Danon
Flash 90
Deputy Knesset Speaker MK Danny Danon (Likud) has announced a new campaign to prevent Prime Minister Binyamin Netanyahu's plan to guarantee Defense Minister Ehud Barak and the members of his Independence Party a spot on the Likud list for the next elections.
Danon's move comes amid reports that Netanyahu is pressing for a reform of the internal elections process in the party that would make it possible to set aside four spots in the list for external candidates. The general consensus among observers is that this step is meant to allow Barak to receive high placement in the list's "top ten."
The other spots may be intended for Barak's cohorts in the Independence faction, including Minister Shalom Simchon. The faction broke off from the Labor party a year ago, when Barak realized that he could face a mutiny within the party if he continued to sit in the Likud-led coalition.
"I have been running a campaign against the idea of guaranteeing Barak a spot on the Likud list for several weeks, and the support I've received is sweeping and unequivocal," Danon told Arutz Sheva, adding he has been signing Knesset members to a petition on the issue. "Barak is a burden to the Likud and not an asset," he emphasized.
Several Likud members have already expressed their reservations about the issue, including MK Tzipi Hotovely, who said earlier this week that she would take steps to prevent this plan from materializing.
Deputy Prime Minister Moshe Yaa'lon has also been revealed as being sharply opposed to the idea.
In a heated discussion among senior Likud officials this week, Ya'alon said, "Is he really an electoral asset? I think he is an electoral liability."
He added, "Including [Barak and his cohorts] would set up an internal competition" between the Likud's ideology and policies, and Barak's. "Do we really need to guarantee positions in the party list for people who are diametrically opposed to our ideas," Ya'alon said.
Netanyahu has denied the reports he promised Barak a designated spot on the Likud list, but Danon has already announced his candidacy for president of the Likud Conference and has made it clear that his central goal is to prevent the move.
"Barak is a Trojan horse that would try to harm the values ​​of the Likud," he said. "Guaranteeing him a spot on the list is not an option. A man who follows the Oslo Accords and the values ​​of the Labor Party cannot be part of the legacy of Jabotinsky and Menachem Begin."
Recent polls have predicted that if the Independence faction runs on its own, it would not make it into the 19th Knesset.