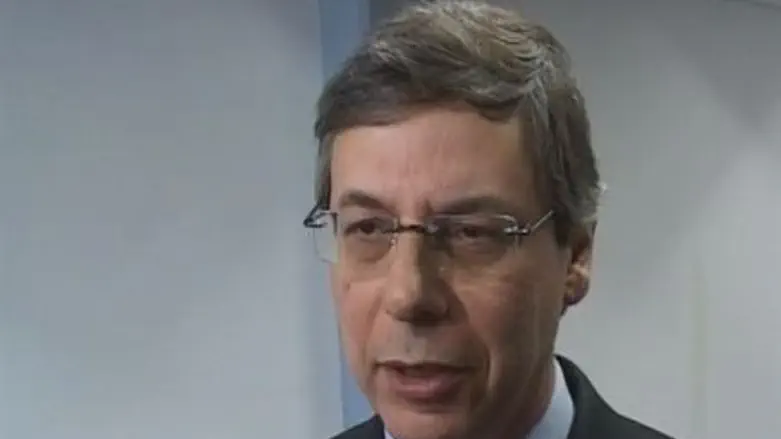 MK Danny Ayalon
Yoni Kempinski
On Thursday, the Ariel Conference for Law and Mass Media was held at the Ariel University Center of Samaria. The conference this year dealt with the subject of "Israel in the Middle East – Current Evaluation."

The guest speaker at the opening session of the conference was Deputy Foreign Minister Danny Ayalon. In a conversation with Israel National News TV's Yoni Kempinski, Ayalon addressed a recently announced boycott by Israeli companies who are cooperating with building the Palestinian Authority city of Rawabi, and are agreeing not to use any Israeli products made in Judea and Samaria and even products from east Jerusalem.
"This is something which is very serious," said Ayalon. "I think it's not only morally and economically wrong, it's also politically wrong and I believe that the judicial authorities should look into it to see if it's even legal."
Ayalon added that the real problem with such boycotts is that they give anti-Israel elements around the world legitimacy to criticize Israel. "If there are some elements in Israeli society that cater to those who try to delegitimize us, it's going to make our job much harder," he said.
However, Ayalon believes that Israel will have the upper hand on those who try to delegitimize it. "Those who try to boycott Israel or to delegitimize it will not succeed. Israel is a proud nation. We have a lot to offer and I think the most important thing is to continue and present Israel in the world markets and economies, and also in the public opinion, as a free, democratic country with creative energy."
Ayalon also addressed recent efforts by the Palestinian Authority to make advances towards a unilateral declaration of a Palestinian state, particularly in light of recent recognitions by South American countries such as Brazil of such a state.
"First of all we talk to all the countries," said Ayalon. "We have good relations with most of the countries in the world. We will not let the Palestinians temper or interfere with our bilateral relations with other countries in the world."
He added that Israel will use its good diplomatic relations to present its case and protest the Arabs' unilateral steps. "Mostly we will continue to work with our friends and allies, first and foremost the United States, and other western democracies."