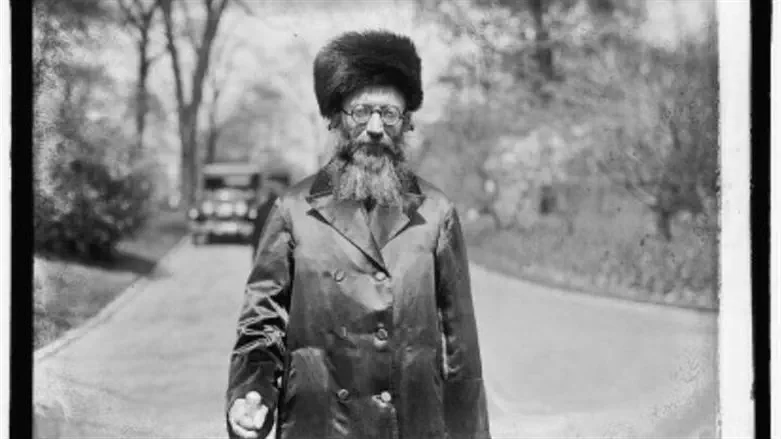 לקראת המפגש בבית הלב. הרב קוק
צילום: ארכיון בית הרב
The celebrated first Chief Rabbi of pre-state Israel, Rav Avraham Yitzchak HaCohen Kook (1865-1935) is recognized as being among the most important Jewish thinkers of all time. His writings reflect the mystic's search for underlying unity in all aspects of life and the world, and his unique personality similarly united a rare combination of talents and gifts.He was the undisputed leader of Religious Zionism, defining the Jewish People and the Land of Israel as entities with specific commandments in the Torah of Israel, a construct known as Torat Eretz Yisrael.
Rav Kook was a prominent rabbinical authority and active public leader, but at the same time a deeply religious mystic. He was both Talmudic scholar and poet, original thinker and saintly tzaddik.
Illustration image: 'Three Rabbis of Jerusalem' (Isaac Snowman, 1873-1947)
Why are the tzaddikim so happy? What is the source of their joy? Psalm 32 says:
שִׂמְחוּ בַה' וְגִילוּ צַדִּיקִים וְהַרְנִינוּ כָּל יִשְׁרֵי לֵב.

"You, the righteous — rejoice in God and exult! Shout for joy, all with upright hearts!" (Psalms 32:11)

Exercising Our Free Will

Sadness, Rav Kook wrote, is ruinous and hated, the result of erroneous beliefs and destructive feelings.1

Thinking that our happiness is dependent on that which is external to us - things or events outside of our control - that is a pernicious mindset. Such misguided thinking brings out our worst traits, leading to discontent and unwise behavior. To constantly pursue external circumstances, like wealth or the approval of others, does not bring happiness. It only leads us to forget God and His great kindnesses, to lose our spiritual balance and abandon the pursuit of higher goals.

We are moral agents endowed with free will; we grow by making good decisions. Tzaddikim are aware that their happiness depends solely on their ability to choose. They know that they can attain true success and all forms of joy - the things they truly desire - by exercising their free will and pursuing that which is beneficial and holy, moral and meaningful.

With our freedom to choose, we resemble our Creator, Whose will is unbounded and unfettered. This is our Divine trait of tzelemElokim.

Recognizing this truth should give us joy and free us from sadness. We must know that all we need to do is direct our will toward that which is good - and that power lies within our hands! As soon as we refine our desires, we elevate ourselves and all spiritual realms connected to us.

That is the source of the happiness of tzaddikim. They know that the greatest treasure lies within their reach. "You, the righteous, rejoice in God and exult!"

(Adapted from Orot HaKodesh III p. 105. LeNevukhei HaDor 1:1, sent to Arutz Sheva by Rabbi Chanan Morrison, ravkooktorah.org)
Notes:
1 Rav Kook is speaking of healthy people who are feeling low, not those suffering from clinical depression. Rav Kook himself maintained an optimistic outlook even in the face of personal tragedy, including the premature death of his first wife, the tragic death of his 12-year-old daughter, a five-year separation from home and family during World War I, and relentless attacks from extremist elements in Jerusalem.