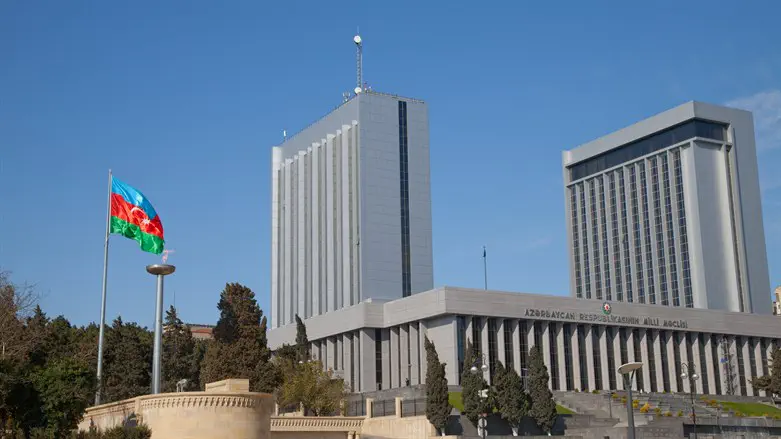 Azerbaijan's parliament
iStock
Azerbaijan security forces on Tuesday arrested seven people in connection to an Iranian "espionage network," the latest development in worsening tensions between Baku and Tehran, i24NEWS reported.
Azeri security forces reportedly started a "massive" operation against spies connected to the Islamic Republic since Tuesday morning. The arrests came less than a week after the head of security at the Azeri embassy in Tehran was killed and two guards were wounded in a shooting attack.
Iran said that the shooter was motivated by "personal reasons," but Azerbaijan labeled the incident a terrorist attack and ordered an evacuation of the diplomatic mission's staff.
The Caucasus state has been facing escalating tensions with its regional neighbor, Iran, particularly over Baku's warming of ties with Tehran's rival Israel.
Israel has had an embassy in Baku since the early 1990s. Azerbaijan opened a trade representation office in Israel in 2021.
This past November, the Azeri parliament passed a law paving the way for the country to open its first embassy in Tel Aviv. A month earlier, then-Defense Minister Benny Gantz made an official visit to Azerbaijan, which was dedicated to security and policy issues, and aimed at fostering defense cooperation between the countries.
Azeri President Ilham Aliyev also recently signed a presidential decree appointing Baku's first envoy to Israel, and has hailed strong ties with the Jewish state.
Last year, noted i24NEWS, Iranian Foreign Minister Hossein Amir-Abdollahian accused Jerusalem of establishing a military presence and secret alliance with Baku, which it rejected.