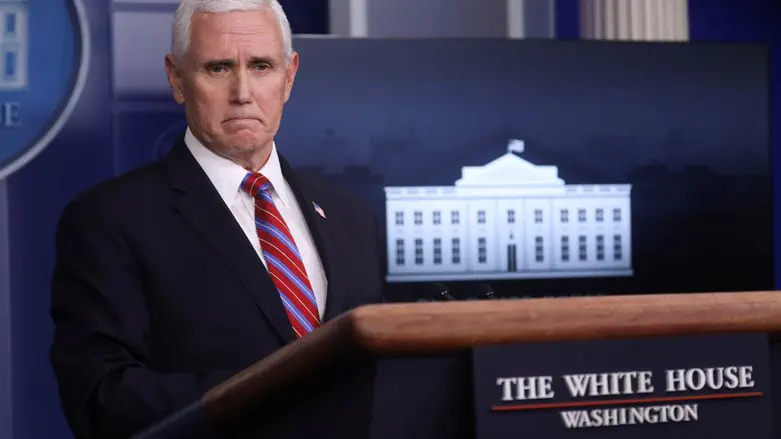 Mike Pence
Reuters
Former US Vice President Mike Pence said on Sunday that the current administration "should end all negotiations with Iran," and that the US "should never re-enter the Iran nuclear deal."
Pence made the comments during a visit to Cornerstone Church in Texas, where he held a fireside chat with Pastor John Hagee, the founder of Christians United for Israel.
"The Iran nuclear deal would not prevent Iran from obtaining a nuclear weapon," said Pence, as quoted by JPost.
"It would virtually ensure after a set period of time that they would have access to the fissile materials to make a nuclear weapon. And I couldn't be more proud to have been vice president in an administration that isolated Iran as never before," he added.
"We not only got out of the Iran nuclear deal but by unleashing our armed forces, we took down the ISIS caliphate and their leader. We marshaled support from Arab nations across the world, even as we were sending in an ambiguous message of support for Israel," continued the former Vice President.
"I knew if I ever had the privilege of representing my state in our nation's capital or serving in public life, I was going to stand for Israel," he stated.
Former President Donald Trump withdrew from the 2015 Iran nuclear deal in 2018, and Iran responded by scaling back its compliance with the agreement.
The Biden administration sought to return to the deal and held indirect talks with Iran on a return to compliance.
Those talks have been stalled since September, when Iran announced it had submitted its comments to the US response to the European Union's draft for reviving the 2015 Iran nuclear deal.
While Iran's Foreign Ministry spokesperson said at the time that Iran's response was prepared based on a constructive approach, a senior Biden administration official said the Iranian response "is not at all encouraging."
A US official later said that the efforts to revive the 2015 Iran nuclear deal have "hit a wall" because of Iran's insistence on the closure of the UN nuclear watchdog's investigations.
More recently, the US envoy for Iran, Robert Malley, said that Iran's crackdown on protesters and the sale of drones to Russia have turned the United States' focus away from reviving the nuclear deal.
Pence's appearance comes amid speculation that he will announce a 2024 presidential run.
In December, Pence told Fox News that he will announce a decision on seeking "national office" in the new year.
Asked whether he would consider running for the open Senate seat in Indiana, the state he was the governor of from 2013 to 2017, Pence said: "I think if we were ever to step forward to serve the American people that would be to take all the experience that we've had and run for national office."
Pence had previously hinted he may not be supporting Donald Trump if he runs again for the White House in 2024. Trump has since officially announced his candidacy.
Speaking during an event at Georgetown University, Pence was asked by a student if he would vote for Trump in 2024 and replied, "Well, there might be somebody else I prefer more."
"All my focus has been on the midterm elections, and it'll stay that way for the next 20 days. But after that, we'll be thinking about the future," Pence added. "Ours and the nation's. And, I'll keep you posted."