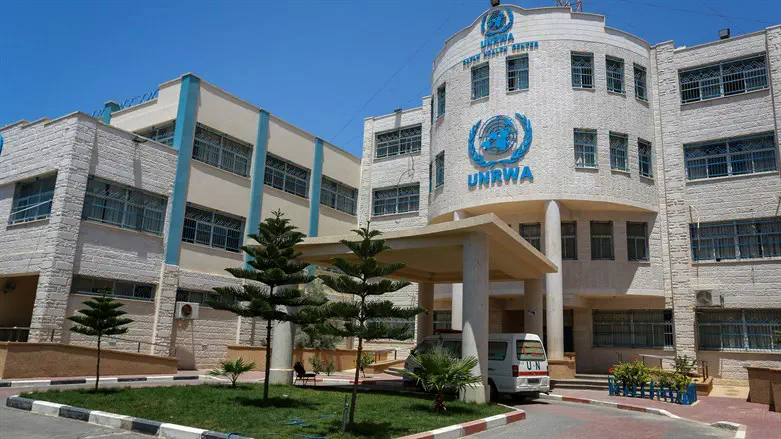 Spacious UNRWA facilities, southern Gaza
Flash 90
Jordan's Deputy Prime Minister and Foreign Minister, Ayman Safadi, on Sunday stressed the need to diversify funding sources for the United Nations Relief and Works Agency for Palestine Refugees in the Near East (UNRWA) to ensure its financing sustainability, the Xinhua news agency reported.
During a phone conversation with UNRWA Commissioner General Philippe Lazzarini, Safadi said Jordan will continue to coordinate with international partners to mobilize support for the UNRWA and called on donors to offer multi-year commitments, according to a statement issued by the Jordanian Foreign Ministry.
Safadi also welcomed the UN General Assembly's decision in December 2022 to extend the agency's mandate, underlining its important role in providing essential services to 5.7 million Palestinian refugees.
He stressed the need for continuing the operations of UNRWA until the issue of Palestinian refugees is resolved in line with the relevant international references and resolutions, and in accordance with the two-state solution.
Lazzarini thanked Jordan for its efforts to mobilize global support for UNRWA, according to Xinhua.
In November, Lazzarini warned that UNRWA is in a "danger zone" that could result in it no longer being able to fulfil its mandate.
Speaking to Reuters, the UNRWA chief said stagnant resources as costs spiralled were pushing many of the 5.7 million registered Palestinian refugees in the Middle East - for many of whom the agency is a lifeline - to unprecedented poverty levels.
UNRWA relies on donations from countries around the world. The US, which has long been one of the main supporters of UNRWA, cut a full $300 million in funding to the agency in 2018, when Donald Trump was President.
The Biden administration has announced it intends to resume aid to UNRWA as well as other aid to the Palestinian Authority which was suspended by the Trump administration.
In September, the US announced $64 million in aid for UNRWA. It previously announced $201 million for UNRWA, bringing assistance to the organization during the Biden administration close to $700 million.
Created in 1949, UNRWA supplies aid to more than three million of the five million registered "Palestinian refugees" in Jordan, Lebanon, Syria and territories assigned to the Palestinian Authority.
However, it is also notorious for its anti-Israel activities. During the 2014 counterterrorism Operation Protective Edge, Hamas rockets were discovered inside a school building run by UNRWA.
Likewise, a booby-trapped UNRWA clinic was detonated, killing three IDF soldiers. Aside from the massive amounts of explosives hidden in the walls of the clinic, it was revealed that it stood on top of dozens of terror tunnels, showing how UNRWA is closely embedded with Hamas.
In December, UNRWA announced it found a tunnel underneath one of its schools in the Gaza Strip, condemning it as a "neutrality breach".