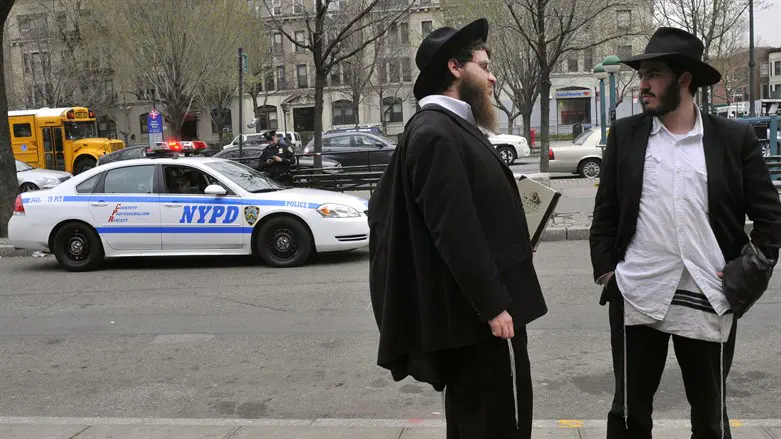 Crown Heights
Serge Attal/FLASH90
Two Jewish girls walking to the Bais Rivkah School in the Crown Heights section of Brooklyn on Wednesday morning were verbally assaulted by a man who hurled antisemitic abuse at them and spit in their faces, CrownHeights.info reported.
The incident occurred shortly after 8 a.m. in the Union Street and New York Avenue area. The girls were reportedly traumatized by the attack but were not physically injured.
That evening the girls' parents contacted Crown Heights Shomrim to inform them of what had taken place.
The organization's volunteers were deployed to the area on Thursday morning to guard against similar incidents.
The incident was one of many unprovoked antisemitic assaults that have taken place in Brooklyn in recent months.
The same week, a Jewish woman was slapped by laughing teens after entering a Crown Heights store. A group of three teenagers accosted her, with one of them slapping her. The teens began to laugh and then ran away.
Earlier in the month, a Hasidic pedestrian was hit by a vehicle while attempting to cross the street in Crown Heights. The injury was deemed a possible bias incident, and the NYPD Hate Crimes Task Force opened an investigation.
In July, an arrest was made after the brutal assault of an Orthodox man in Crown Heights earlier in the month who was beaten in front of his five-year old child.
In March, a Jewish man was repeatedly hit in the head by man wielding metal cane in an apparent hate crime attack.
According to CrownHeights.info, the victim was picking up his niece in the Crown Heights area shortly after 7 a.m. When he stopped his car to get his niece, the assailant walked up to his car and hit it with a metal cane multiple times.
Last January, a 21-year old visibly Jewish man was punched in the nose by a man who crossed the street and attacked him. The incident was investigated by the NYPD Hate Crimes Unit.
The assault came only a week after a 21-year old woman allegedly told Jewish siblings playing outside, aged seven and two, that "Hitler should have killed you all" and then spit on their eight-year old brother.