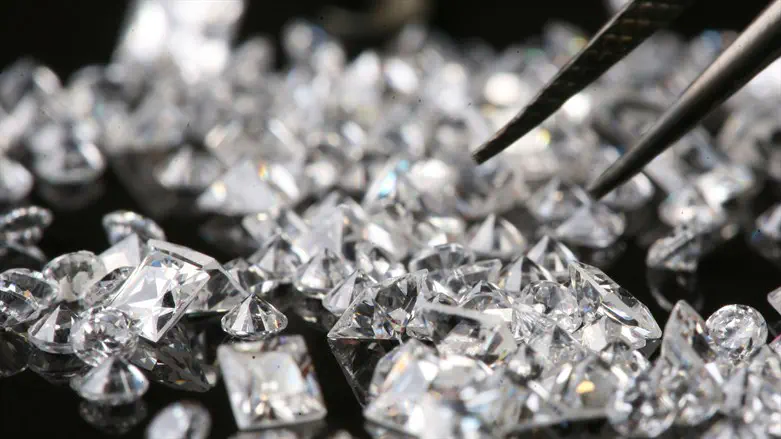 Diamonds
Nati Shohat/Flash 90
This past spring, the US Treasury Department
blacklisted
major Russian state-owned enterprises in connection with the war in Ukraine. One of these was Alrosa, the world's largest diamond mining company. Unfortunately, a loophole allows Russian diamonds to be sold in the United States and elsewhere if they are first polished in Israel, and several Israeli companies work with Alrosa. Both the US and Israel must take immediate steps to shut down diamond traders who are effectively sidestepping international sanctions efforts and helping fund Russia's war in the Ukraine.
Diamonds are a preferred commodity for criminal organizations, terrorist groups and state sponsors of terror. Rough diamonds, which are taken straight from a mine and left uncut or polished, cannot be traced with current technology. While the international community has taken some regulatory steps to curb abuses – specifically the trade in "blood diamonds", defined as diamonds mined in war zones and used to finance insurgency or war efforts – these initiatives have been unable to effectively halt the international laundering of diamonds or sever links to funding of terrorism or conflicts.
Israel has not imposed Ukraine-related sanctions on Russia, primarily because of Moscow's role in the Syrian civil war. Since 2015, Russia has supported the troops of Syrian ruler Bashar Al-Assad with airstrikes and bombardment of rebels and jihadis. More than 63,000 Russian military personnel have been deployed to Syria, and Moscow has two military bases in the country. Russia has effectively become Israel's northeastern neighbor and Israel feels it must be wary.
Alrosa does not sell its diamonds on exchanges or direct to consumer. Instead, it works through several dozen "sightholders" that are guaranteed a regular annual supply of rough diamonds worth tens or even hundreds of millions of dollars. These entities polish diamonds directly, sell them to others in their rough form, or both, until they are sold to the end-consumer as jewelry.
All of these diamantaires have a deep presence in the United States, including offices in New York.
Money laundering and diamond trafficking are problems that transcend borders. Those who engage in such activities generally carry out their activities in secret, while these Israeli diamantaires operate in the light of day. It is clear that they are helping fill Russia's coffers, and by extension funding its war in Ukraine, by working directly with a blacklisted Russian entity. It is time for the US and Israel to take immediate action.
Daniel Schwartz is a Melbourne-based junior lawyer who also writes on topics related to Israel and the Middle East.