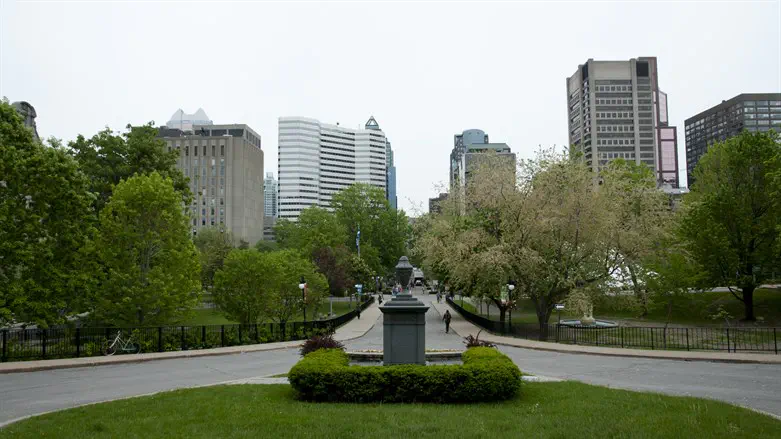 McGill University Campus
iStock
B'nai Brith Canada said on Wednesday it is backing a McGill University student's lawsuit against the university for failing to withhold student fees after repeated anti-Israel referendums, in violation of the university's own policies.
The lawsuit names McGill University, the Student Society at McGill University (SSMU) and Solidarity for Palestinian Human Rights (SPHR), which promoted the referendum.
Members of SSMU endorsed a document accusing Israel of engaging in "settler-colonial apartheid against Palestinians," and committing SSMU to boycotting all entities "complicit" in this activity, among other measures. The document's language was so broad that it would have compelled SSMU to boycott virtually all Jewish clubs and associations on campus.
B'nai Brith noted it has previously appealed to the university to withhold funding for the students' society, and despite having received assurances that McGill would do so, it continues to fund the SSMU. To make matters worse, McGill is in violation of its own Memorandum of Understanding, promising to cease funding SSMU in the event it participated in boycotting Israel or affiliated groups.
"We're standing up for this Jewish student, and through him, all Jewish students on campus who feel unsafe and unwelcome as a result of continued anti-Israel referendums by their student society," said Michael Mostyn, CEO of B'nai Brith Canada.
"It's inexplicable that McGill would allow one anti-Israel referendum after another and continue to fund activities which are in violation of its own policies. In doing so, it is participating in creating an antisemitic environment," added Mostyn.
The referendum motion was promoted by the SPHR – an anti-Israel campus group that has gained significant influence in the SSMU. Rock star Roger Waters recently spoke at a virtual SPHR McGill forum, where his usual anti-Israel venom found a welcome audience.
"Let this be an example to all universities across Canada who are allowing this type of activity on campus. B'nai Brith will not stand for this any longer," said Sam Goldstein, B'nai Brith Canada's Director of Legal Affairs. "These types of referendums are not restricted to McGill, this is a problem in universities across Canada, and we hope other universities are paying attention."
The plaintiff - a Jewish 3rd year student at McGill - is being supported exclusively by the Legal Defence Program at B'nai Brith Canada.
McGill University has been in the headlines in the past due to antisemitism. In 2017, the then-director of SSMU, Igor Sadikov, tweeted "punch a Zionist today".
Sadikov later resigned from his post as director of the Students' Society of McGill University, even after the Arts Undergraduate Society at McGill had voted by a majority of 22-16 not to impeach him.
In 2019, the SSMU Legislative Council voted to remove a Jewish student from the SSMU Board of Directors simply because she was planning on participating on a Hillel Montreal trip to Israel.
McGill's administration later sided with the Jewish student, Jordyn Wright, saying that the SSMU's decision fostered "a culture of ostracization" and that it is "contrary to the university's values of inclusion, diversity and respect."