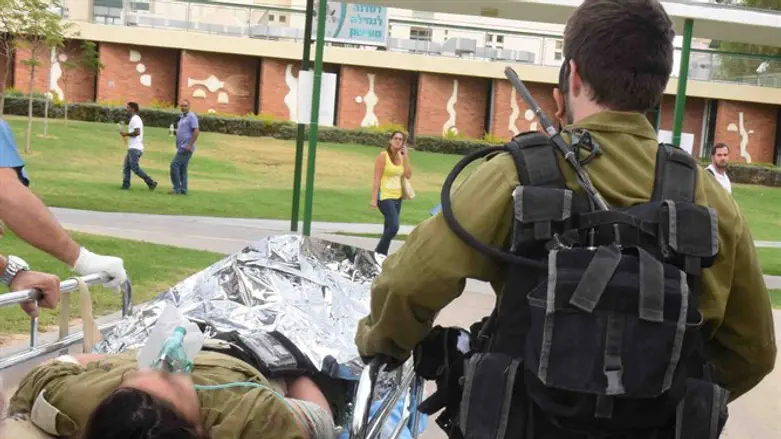 Injured soldier being transported to hospital (illustrative)
Flash 90
JTA - Dozens of high schools from around the world will connect with Israel's military on the country's Memorial Day, Yom Hazikaron, by following the stories of three soldiers injured in recent wars.
The students will watch a screening of the film "When the Smoke Clears: A Story of Brotherhood, Resilience and Hope," by Imagination Productions, which follows three soldiers, each seriously injured during a recent battle or war in Israel and the daily struggles they have emotionally and physically.
The students also will have access to an Instagram account where they can share their feelings about the soldiers, and connect over their stories.
At least 40 schools have signed up to participate in the event, which will take place on Yom Hazikaron, this year on April 18th.
The soldiers tell their own stories, from before, during and after their injuries. "When you read in the paper about a soldier that got injured, you say 'phew, at least he is not dead.' You don't even think about what it means," says one of the film's subjects, Ofer, who was wounded in the Second Lebanon War. "I don't think going to war is heroic. I think what is heroic is when I see people who chose to live after what they've gone through."
The film, produced by Rebecca Shore and Raphael Shore, recently was featured at the Jewish Film Festival in Miami.
The focus on the individual soldiers and their families are designed to encourage deeper discussion and powerful questions in the classroom about service, struggle, brotherhood and resilience.
Students will see a specially-designed cut of the film and the production company provides an accompanying curriculum and discussion guide and instructor training.