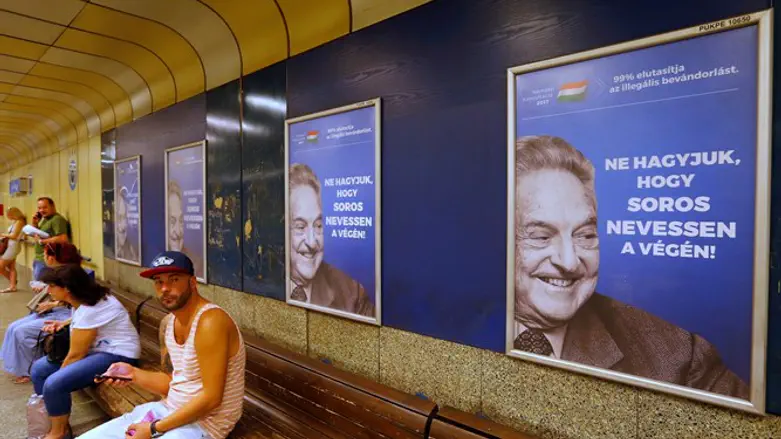 anti-Soros posters in Hungary
Reuters
The Hungarian government will reportedly remove the posters which used as part of a campaign against US billionaire George Soros ahead of a visit by Israeli Prime Minister Binyamin Netanyahu, Haaretz reported.
The campaign, which criticized Soros' opposition to Hungary's immigration policy, was accused by Jewish leaders of stoking anti-Semitic imagery and feelings.
Yossi Amrani, Israel's ambassador in Budapest, on Saturday called on Hungary to halt the anti-Soros campaign.
"It's our moral responsibility to raise a voice and call on the relevant authorities to exert their power and put an end to this cycle," Amrani said.
"I call on those involved in the current billboard campaign and those responsible for it to reconsider the consequences.
"At the moment, beyond political criticism of a certain person, the campaign not only evokes sad memories but also sows hatred and fear."
Israel later clarified its stance that criticism of Soros is reasonable as long as it does not become anti-Semitic in nature.
A senior official in Israel's Foreign Ministry explained on Sunday that "Israel condemns every expression of anti-Semitism in every country and alongside Jewish communities everywhere in dealing with this hatred. This was the sole purpose of the statement by the Israeli ambassador to Hungary."
"Under no circumstances was there a statement aimed at de-legitimizing criticism of George Soros, who continues to undermine the democratically elected governments of Israel by funding organizations that defame the Jewish state and seek to deprive it of the right to defend itself," the official said.
The Hungarian government has announced that the it is ending the anti-Soros campaign because it has reached its goals, according to a report by the Hungarian television network ATV.
Prime Minister Netanyahu will meet Hungarian Prime Minister Minister Viktor Orban in Budapest on July 15.