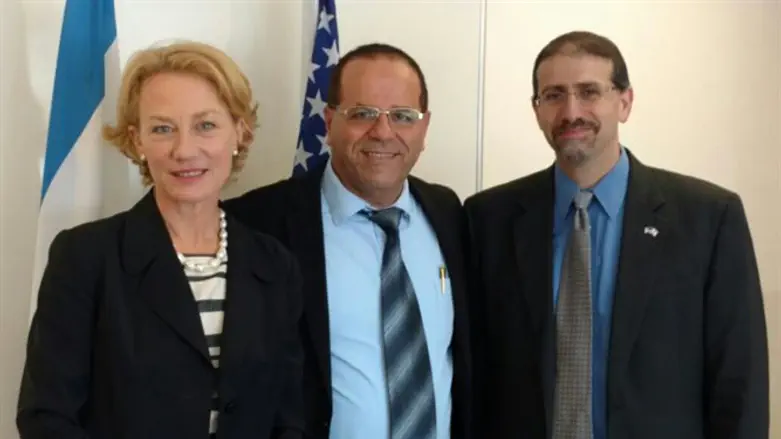 Kara with ambassadors Wells and Shapiro
Ayoob Kara spokesperson
Deputy Minister of Regional Cooperation, MK Ayoob Kara (Likud), hosted in his office on Thursday the US ambassador to Israel, Dan Shapiro - and the US ambassador to Jordan, Alice Wells.
Kara presented Shapiro and Wells the latest projects Israel and Jordan have been handling jointly - especially their new canal, and a joint industrial zone called "Jordan Gate," which is set to open within the next two years.
The meeting touched on the Paris Protocol, Palestinian trade, and measures taken to promote trade between Jordan and the Palestinian Authority.
The ambassadors also discussed a new industrial zone in Yericho (Jericho), and plans to increase the number of Jordanian workers who would travel there daily. Recently, the government raised the number of Jordanian day labourers allowed into Eilat, via Aqaba, by 1,000.
During the meeting, Kara emphasized that "Israel is committed to assisting the Jordanian economy, and to the continued enhancement of their bi-national relations, in order to combat religious extremism and strengthen the socio-economic resilience of Jordan."
"The sea canal project is of regional strategic significance, and we have reached great progress in the project, as well as in other joint projects - and we are in constant touch with the Jordanian parties."