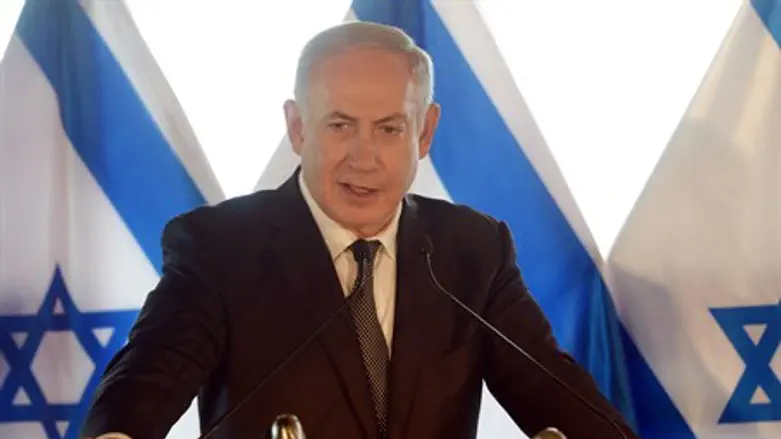 Binyamin Netanyahu announces Turkey reconciliation deal
Amos Ben-Gershom/GPO
Turkey and Israel will "start the process of ambassador appointment" this week after the former allies signed a deal to normalize ties following a bitter row six years ago, Ankara said.  
Presidential spokesman Ibrahim Kalin, making the announcement, also said Turkey and Russia's foreign ministers would meet in the Russian resort of Sochi on July 1 following months of acrimony as Ankara seeks to strengthen regional ties. 
"This week we will start the process of ambassador appointment" between Turkey and Israel, Kalin told reporters in Ankara.
He added that the meeting between Foreign Minister Mevlut Cavusoglu and his Russian counterpart Sergei Lavrov would take place on the sidelines of a Black Sea Economic Cooperation meeting in Sochi.
The announcements come after Turkey went on a major diplomatic charm offensive on Monday, seeking to restore ties with both Russia and Israel as it moves back towards a policy known as "zero problems with neighbors."
It follows a series of disastrous foreign policy decisions by the Turkish government, including broken relations with Israel and Russia, and ill-fated attempts to intervene in Syria against former ally Bashar al-Assad.
Turkey and Israel formally announced their reconciliation deal yesterday (Monday) after months of talks, and six years after Turkey's Islamist AKP government broke off ties with the Jewish state.
Israeli Prime Minister Binyamin Netanyahu announced the deal at a press conference in Rome, followed soon after by his Turkish counterpart at a press conference in Ankara.
Under the agreement, Israeli will pay $20 million in compensation to the families of Turkish jihadists killed in a violent attempt to break the Israeli blockade of Gaza in 2010, aboard the Mavi Marmara ship, in addition to a formal apology for the incident, which Israel has already issued. In addition, Israel will facilitate shipments of Turkish aid into Gaza - the first of which is set to arrive as early as Friday, according to Ankara.
In return, Turkey has dropped its demands for Israel to lift the security blockade on Gaza - designed to prevent the transfer of sophisticated weaponry to terrorist groups there - and will commence negotiations on buying natural gas from the Jewish state in a lucrative deal Netanyahu touted as of "supreme strategic importance."
Additionally, Turkish President Recep Tayyip Erdogan as pledged to work towards helping free Israelis held captive - both dead and alive - by Hamas in Gaza. The bodies of IDF soldiers Oron Shaul and Hadar Goldin have been held by Hamas since 2014's Operation Protective Edge, and Israeli civilian Avera Mengistu has been languishing in Hamas captivity for several years as well.
The families of the captured soldiers have accused the Israeli government of abandoning their sons by not conditioning it on their release - noting Turkey's very close relationship with Hamas.
The deal has also been fiercely criticized by many Israelis, including members of Netanyahu's own government, who see the concessions - particularly compensation to Islamists killed while attacking IDF soldiers - as a surrender to terrorism and detrimental to Israel's standing in the region.
Education Minister Naftali Bennett, Justice Minister Ayelet Shaked and Defense Minister Avigdor Liberman have all said they will vote against the agreement, which is expected to pass in the Cabinet nonetheless.