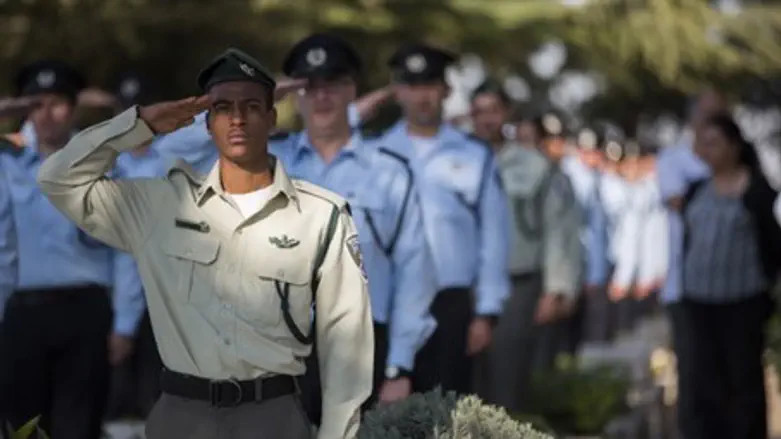 Soldiers salute on Memorial Day (file)
Yonatan Sindel/Flash90
31 civilian Israelis have been killed in terror attacks since last Israeli Independence Day (Yom Ha'atzmaut), Bituach Leumi announced Monday - including 29 since September. 379 people have been injured. 
Terror attacks have left 3,011 orphans, 107 children orphaned from both parents, 975 widows and widowers, and 972 sets of bereaved parents. 2,576 total have been killed in terror attacks since 1948, including 122 foreign visitors. 
Bituach Leumi director Professor Mor Yosef stated Monday that the organization takes the rehabilitation of terror victims and their families as top priority, and that it has paid over 500 million shekel ($132 million) in allowances to victims and their families over the past year alone. 
As part of its services, the organization memorializes the victims. The "forever" website run by the group details the lives and deaths of 4,117 Israelis and tourists who have died in attacks since the State was created until today. 
For the seventh year in a row, a special ceremony will be held at the Knesset for terror victims Tuesday night, at 9:00 pm.
Prime Minister Binyamin Netanyahu, President Reuven Rivlin, Social Affairs Minister Haim Katz, Deputy Defense Minister Rabbi Eli Ben-Dahan, Police Commissioner Roni Alsheich, Deputy IDF Chief of Staff Yair Golan, and Yosef will be in attendance. 800 people - mostly bereaved families, representatives of veteran and terror victims' advocacy bodies, and IDF officers will join them.
The IDF band, local artists, and other performers will participate. 
The State of Israel memorial ceremony in memory of martyrs will be held Wednesday at Har Herzl at 1:00 pm.