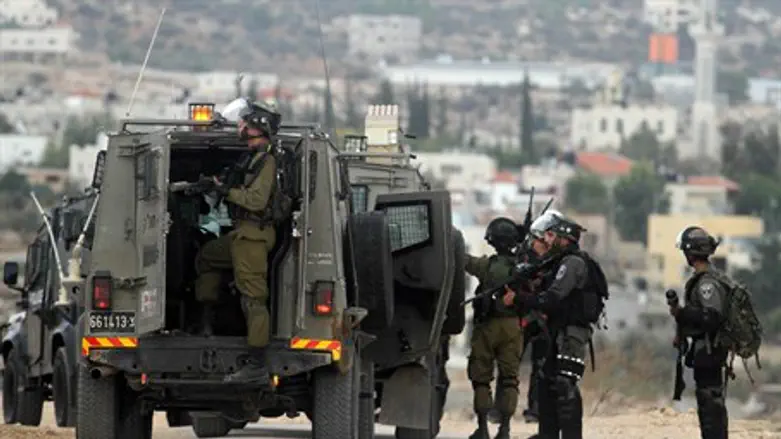 IDF and Border Guard patrol (illustration)
Flash 90
The Security Cabinet held a hearing over the proposed withdrawal of IDF soldiers from Palestinian Authority (PA) cities in Area A Wednesday, after a heated confrontation between Prime Minister Binyamin Netanyahu and Education Minister Naftali Bennett (Jewish Home). 
After a nearly two-hour long discussion over the issue, the Cabinet concluded that the IDF maintains and will maintain the option to enter Area A at any time. In the discussion it was also clarified that currently there is no agreement with the PA on the matter.
A senior security official on Sunday said that a deal on an IDF withdrawal from Area A was imminent, as talks between the IDF and the PA were potentially days away from reaching an agreement. The PA has revealed it is demanding the IDF presence be removed from all PA-controlled cities in a total withdrawal.
The announcement has been met with a mixture of shock and outrage. While individual MKs, including MK Nava Boker (Likud), Transportation Minister Yisrael Katz (Likud), and Absorption and Immigration Minister MK Ze'ev Elkin (Likud), have vocally opposed the withdrawal, Bennett and Netanyahu engaged in a verbal sparring over the issue earlier Wednesday, with Netanyahu reportedly threatening to fire Bennett from the coalition.