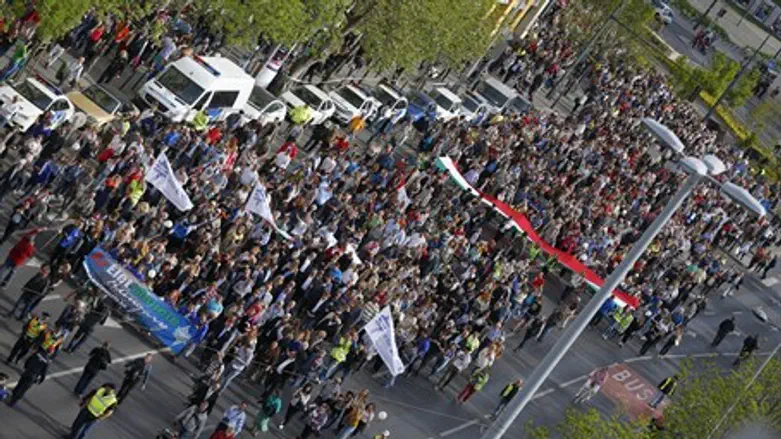 March of the Living in Hungary
Reuters
BUDAPEST (JTA) -- Three Christian bishops were among tens of thousands who took part Sunday in the March of the Living in Hungary, as well as the country's largest anti-racist rally of the year.
"It is a historic moment, when the leaders of the Christian and the Jewish religion are on the same stage together," Gabor Gordon, the head of the March of the Living Hungary Foundation, said in his introduction.
It marked the first time that three Christian bishops took part together in the march, which is held annually to commemorate the deportation of Hungarian Jewry to the Auschwitz concentration camp, and gave speeches on the same stage. March of the Living is now in its 14th year.
Janos Szekely, a Roman Catholic bishop, said: "We are here now at the March of the Living in Budapest to express our pain and repentance over the killing of more than half a million Hungarian Jewish compatriots."
The march started from the downtown Dohany Street Synagogue and ended at the downtown Basilica, the largest Catholic Church in Budapest.
It began with a moment of silence in memory of Imre Kertész, the Hungarian Jewish writer who died earlier this month at 87, and whose Holocaust novels won the Nobel Prize for Literature in 2002.
The largest applause was for Hungarian Chief Rabbi Robert Frolich, who in his address was openly critical of the Christian churches.
"What if the doors of the Basilica had been left open then, during the Holocaust? … But the doors were not open, the Basilica was closed when it needed to be open," he said.
Numerous diplomats attended the rally, including the Israeli ambassador to Hungary, Ilan Mor.
"This is now the March of the Living and not as it was 72 years ago, when it was the March of the Dead," Mor said. "Now this is the March of Hope."
The star of the Academy Award-winning Hungarian film "Son of Saul," Géza Röhrig, also appeared at the event.
The Hungarian branch of the March of the Living Foundation, ahead of the March of the Living to Auschwitz, also holds an annual anti-xenophobic and anti-racist rally in Hungary.
Other events on Sunday included the dedication of a memorial statue in Budapest to the some 100,000 forced laborers during World War II,  The monument in the 8th District, which had a large Jewish population before the Holocaust, was created by Hungarian-Israeli artist Dan Reisinger.
The statue was supported by the Hungarian government and the Hungarian Ministry of Defense.