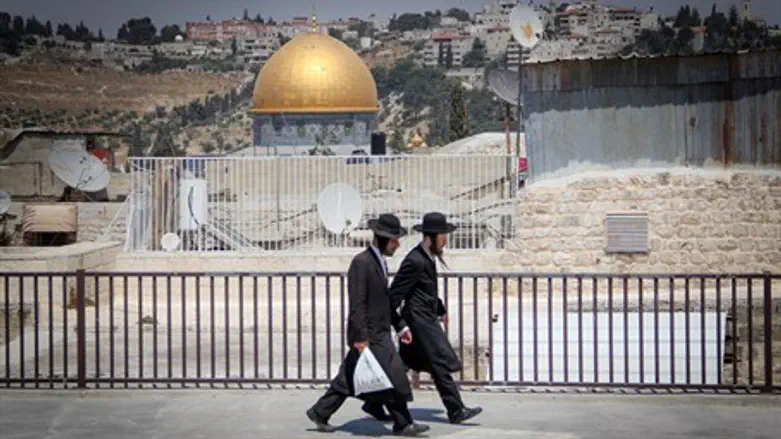 Haredi Jews walk close to the Temple Mount in Jerusalem (illustration)
Garrett Mills/Flash 90
Two Jewish men in their early twenties sought a novel way of getting round draconian restrictions on Jewish visits to Jerusalem's Temple Mount: dressing up as Muslims.
The pair were stopped close to one of the Temple Mount gates in the Old City of Jerusalem, after attempting to ascend Judaism's holiest site dressed as religious Muslims.
Despite being the holiest site to Jews the Temple Mount is administered by the Islamic Waqf authorities, as part of Israel's peace treaty with Jordan. Under the Waqf's insistence, the Israeli police ban Jews and other non-Muslims from praying there, and impose heavy restrictions on religious Jews even seeking to visit. The Israeli authorities defend such measures - panned as discriminatory by activists - citing Muslim threats of violence if Jews are permitted to pray, or even to visit in large groups.
The two men nearly managed to get away with their ruse, until they drew the suspicion of police officers, who stopped them for questioning. The men insisted they were Muslims who had come to pray at the Al Aqsa Mosque, which is built atop the Temple Mount, but police soon discovered their true identities.
The Jewish men were arrested and taken in for questioning.